Adorable Topman Socks 3 Pairs For $18 @ The Bay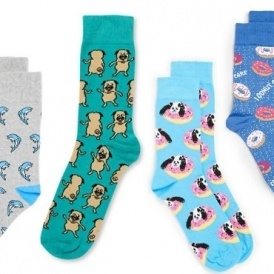 Okay. These Topman socks have to be the cutest thing I have seen when it comes to socks! Right now The Bay has Topman socks on sale - 3 for $18. Plus their coupon code SAVE will get you an extra 15% off today... which leaves you paying $15.30 for three pairs of these priceless socks. Oops - that coupon has expired! But these socks are still totally adorbs.
I wouldn't be able to pick just one pair of these socks, so I am glad they are 3 for $18. I am even happier that the 15% off code valid today at TheBay.com works - bringing the price to just over fifteen bucks!
I quickly added the Panda Doughnut Crew Socks to my shopping cart, because well, when do you ever see socks with pandas and doughnuts on them?! They were originally $7 so paying just $5.10 per pair with this discount is pretty good. Plus, the cuteness of these socks is priceless anyway.
Another must-have pair would be the Dancing Pug Crew Socks. These were the original pair that caught my eye. And if you like the puppies on those socks, then be sure to get your hands on the French Bulldog Crew Socks as well. There you have it! Three pairs!
Shipping gets a bit hectic, there are many different options. Here I have it broken down as simple as possible:
The Bay has free shipping on orders over $99, or free shipping on beauty orders over $49. Otherwise you have a few flat-rate shipping options. Under $50 you will spend $5.95 on shipping. Between $50.01 and $75 you will spend $7.95 on shipping, and between $75.01 and $98.99 you will spend $9.95 on shipping. With an HBC Credit Card though, you will get free shipping on orders over $45 (or beauty orders over $29).
(Expiry: 7th June 2016 @ Midnight)