Addition Elle Canada: B1G1 50% Off & Additional 50% Off Sale Items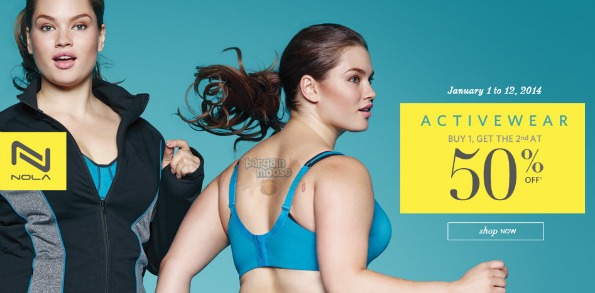 There are a couple of deals happening right now over at Addition Elle that will save you money on your purchases.  Save an additional 50% on all sale items and get their Activewear for buy one get one 50% off.
The Activewear deal for buy one get one 50% off includes a lot of different kinds of items.  You will find sports bras, yoga pants, performance jackets, fleece jackets, tees and even bathing suits.  All of the regular conditions apply, such as getting the lower priced or equal valued item at 50% off. Also, you must have an equal number of Activewear items in your cart for them to be automatically discounted at the checkout.
As for the huge sale, you will find some incredible deals there.  Whatever the lowest ticketed price is, you will save an additional 50% off of that price at the checkout once you add the item to your cart. This sale includes shoes, tops, dresses, pants, lingerie and more.
I love this two toned sheath dress that was $89.99 and is now $59.99.  With the extra 50% off at the checkout, the price becomes just $29.99.  I also love these leather high heel boots that were $169.99 and are now just $84.99.  With the additional 50% off at the checkout, the price drops to just $42.50. That is a steal for a pair of leather boots, especially tall ones!
There is a flat rate shipping fee of $7.50 which is fairly reasonable. You will also be able to shop at Penningtons Canada and still get the flat rate shipping with items from both stores in your cart. Check out the Addition Elle coupon page before shopping. You may be able to use one of the coupons to save even more.
(Expiry: 12th January 2014)