Abercrombie Kids Canada: Girl's K-Way Reversible & Packable Jacket Was $140 | Now $70 & Free Shipping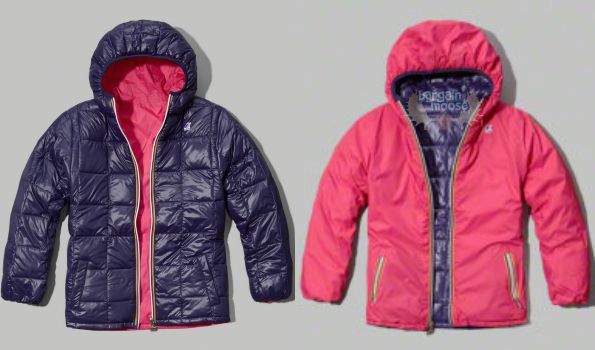 While I'm sweating my butt off today, I know this weather is going to change for the cooler soon-ish. I don't want to be scrambling to get my child a winter jacket, so I need to be prepared. I found a great deal with 50% off at Abercrombie Kids that all the kids who "need" name-brand will love. Regularly $140, it is on sale for $70. These prices are in Canadian dollars, so there will be no exchange surprises on your credit card bill. Also, all duties are included at checkout and for this jacket I was only charged $3. Right now they've also got free shipping on orders over $50. This means your total price for this jacket all-in is $73, which I think is a pretty solid deal.
This jacket really has some cool features. It is fully reversible, so she can decide if she is having a pink or a purple day.The fabric is completely waterproof, so it will work on those days when she won't carry an umbrella in keeping her mostly dry. It also is filled with pure goose down with quilted seams, so it will also be warm on both wet and dry days. If it gets warm outside and she doesn't want to wear her jacket, she can easily pack it right down into a little pouch. What a seriously awesome jacket!
All sizes are available, from small to extra large and they've got a size chart right on the same page for ease of finding the right size. I can't stand when I find something I love on a website and I can't understand exactly how it will fit. Small could mean it fits a toddler or a teen. In this case small fits size 10 and XL fits size 16, so I would say this jacket is for the pre-teen to teen set, which truly are the ones who care about having the Abercrombie name on their clothing.
If this jacket isn't right for your child, but you want to take advantage of their free shipping over $50, they've got up to 70% off in their clearance section right now and all jeans are buy one, get one for $10. They are also having a mid-season sale with all hoodies and sweaters being only $26. That is a sweet deal considering their hoodies usually start around $45.
(Expiry: Unknown)