Abercrombie & Fitch: 70% Off Clearance Today Only & 15% off With Newsletter Sign-Up (EXPIRED)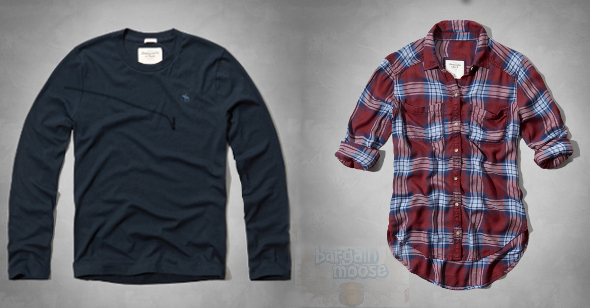 Abercrombie & Fitch has both amazing style and hot prices right now. All clearance sale items on the Abercrombie & Fitch Canada website are on sale for 70% off their regular price. This Abercrombie & Fitch offer is available online, today only. You can also sign up for their e-newsletter to save an additional 15% off your purchase!
If you're anything like me, you like the name brand clothing but not the name brand pricing! That is why opportunities like this are excellent for adding some new style to your wardrobe. This Abercrombie & Fitch Canada Clearance Sale has items available at hot prices for both men and women. What I like about the Abercrombie & Fitch website is that it tells you if the item is sold out or not, even before you click on the item. No time is wasted! You can also click "quick view" to see if your size is available in the colour you wish to purchase.
Gentlemen, just to show off your inner moose - the Moose Creek Tee from Abercrombie & Fitch is regularly $38. Today, this item is only $10.80. This is an excellent price for this sweater even before applying any additional discounts. If you do apply your 15% discount to this particular cozy Moose Creek Tee, you will pay $9.18. This top comes in a variety of colours too, so there will be more chances of your size being available still.
If you are looking for jeans instead, the A&F Boot Jeans for Men are stylish looking with their destroyed vintage medium wash. They are regularly $94 from Abercrombie & Fitch Canada Online, but today they are priced at $28.20. Again, when you apply your additional 15% discount you will be looking at paying only $23.97. If you pair the Moose Creek Tee with these jeans you will have a brand new outfit for just $33.15.
Ladies, I know plaid is not for everyone, but I just love the Lindsey Shirt from A&F! They usually price it at a whopping $84 but today it is on clearance sale for $19.20. Just think, after you apply your 15% discount - this top will work out to be only $16.32. There are a few different plaid patterns available in this top, have your pick!
If you want a perfect pair of jeans to match the Lindsey Shirt with, I would check out the A&F Zoe Boot Mid Rise Jeans. These jeans are in a destroyed dark wash and would normally cost you $94. Who can afford that around Christmas time? Today they are priced at only $28.20! Apply your 15% discount and you will pay only $23.97 which is the same price a the men's jeans I mentioned earlier.
To receive an additional savings of 15% off your purchase, simply sign up for the Abercrombie & Fitch Canada e-newsletter. After doing so, you will receive a unique code to apply at the check out. This can be combined with their clearance deals! Usually you should receive your coupon code within an hour or two of signing up.
Abercrombie & Fitch does ship from the US, but that is no issue for us Canadians. The Abercrombie & Fitch Canada FAQ says:
The Price that Canadian Customers pay to Abercrombie & Fitch includes the Customs Duties, Taxes, and Shipping & Handling Fees.
This means that you won't be surprised with any additional fees when your package from Abercrombie & Fitch arrives. Also, since you signed up for their e-newsletter, you should also sign up to become an Abercrombie & Fitch member so that you can receive free shipping when your order total reaches $50 or more. This minimum must be met after all of your discounts have been applied. This is also a new offer available today only, usually free shipping is applied if you spend $75.
You even have time to get your items in time for Christmas! Abercrombie & Fitch Canada has set their shipping deadline to December 19th, 2014 at 12 PM EST when you choose Canada Two Day Shipments at the checkout.
For all of the Abercrombie & Fitch coupon codes, please visit our forum here.