70% Off Teva Sandals & Footwear @ Live Out There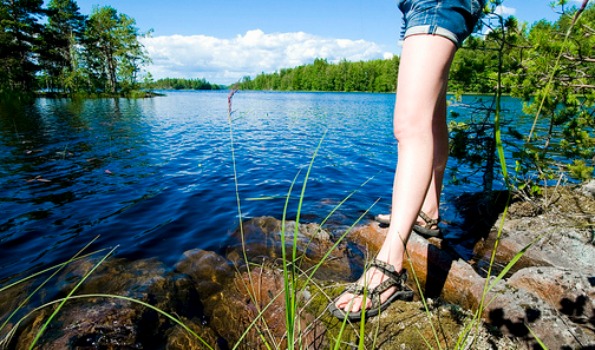 Live Out There is having a winter blowout sale right now, through to the end of January. Most of their items are marked 40% to 50% off but I found some great sales on Teva Sandals and Footwear on final sale for 70% off. Live Out There provides free shipping for all orders in Canada, no minimum.
Oh hiking sandals, you and I have such a quiet love affair. Hiking sandals are my footwear of choice in the spring and summer time for activities such as hiking, camping or canoeing. I have owned several pairs of both Teva sandals and flip flops over the years and have long been impressed with the quality, foot support and durability of their shoes.  I convinced my husband several years ago to buy a pair and now he loves his too. Shoe love does not come easy from a man who refuses to own more than 6 pairs of shoes! Teva sandals do give you a decent foot support for many outside pursuits though they are not a substitute for hiking boots when out on rugged terrain.
Check out the Women's Kayenta Sandal options. These sandals were $89.99 and now are only $27. This rugged sandal comes in two colour styles. Dream Weave is a black with some red accents and comes in size 8.5, 9.5 and 10. There is also a pair in a slate blue-grey colour with white accents that is only available in size 7. I may consider replacing my older 3-year-old pair with the Dream Weave style for myself. These sandals are retailing for $72 to $100 at Shoeme.ca depending on the colour. I see also that they used to be listed at a variety of sports outfitters but are no longer in stock. I noticed that this is a spring 2014 model, which is probably why I am not finding these available elsewhere. It seems that Live Out There is making room for the new spring line.
If you like an even sportier look check out the Women's Toachi which was $109 and is now $33. This sandal is available in both a pink and grey or in a blue and grey style. The pink comes in multiple sizes but the blue only comes in size 8.5 and 11. Shoeme.ca has these sandals on sale for $88 and seems to be the only other retailer carrying these in a women's model. I like that these include an extra shock pad in the heel that will give your feet a little extra support and comfort.
There are other great Teva sandals and shoes on sale for both men and women at 70% off. The sizing availability is a little spotty. Use the search features on the left to narrow down your choices to your size. If you are looking for more great deals from Live Out There, check out this post from Eva for this great pair of Lole snow pants or click around to check out more of their winter sale deals.
(Image Credit: Jason Jones)
(Expiry: unknown)