30% Off Select Leather Goods @ Roots Canada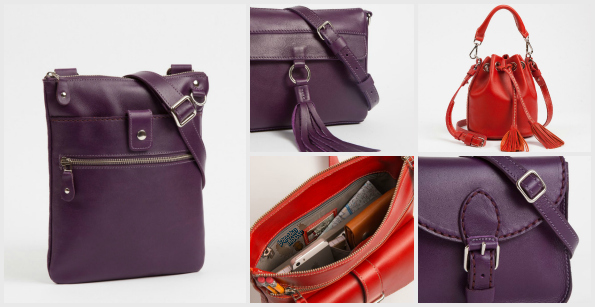 Roots Canada is offering 30% off select leather purses, bags, wallets, and more right now. Roots Canada's leather goods are one of the more sought after items from the company.
There are so many gorgeous bags in the sale that I do not know quite where to start. The Helen Bag Coventry is the perfect size for your everyday purse. I like the bucket design and the leather drawstring design at the top. I fond you can fit a lot into this style of purse and I have wanted one ever since the first time I saw this design at Roots Canada. The bag comes with two handles - one long and one short - and is the most pleasing papaya red. Originally $178, the purse is on sale for $124.99. If I were going to purchase just one bag, it would be this one.
The Raw Edie Bag Coventry comes in the same papaya red with a contrasting beige stitch. The Edie has one large compartment with a zip enclosure in the top. Inside that compartment, there is a small interior zip pocket. There is also an exterior zip pocket as well for things like your cell phone or your keys. The Edie Bag only comes with one strap but it is adjustable. Originally $138, the purse is now on sale for $96.99.
While the papaya red is very nice, I much prefer the deep purple of the Small Buckle Pouch Coventry. This is also a fabulously small purse for a smaller budget. Originally $98, this smart unlined bag is on sale for $68.99. I had a purse this small from Roots before. It is perfect for a few essentials: your phone, some credit cards, a change purse, chap stick, and your keys. However, I highly doubt this will fit your sunglasses unless you wedge them in there very carefully.
For a slightly larger bag in the stunning purple pick up the Annabelle Bag Coventry that was $198, and is now $138.99. The interior appears to be lined and if the pictures are any indication, you can wedge quite a few things in this lovely number.
I always watch the Roots Canada sale section for leather, but there has not been anything good in there for months. I was surprised to find it restocked when I looked today, with 30% off such lovely bags. Receive free shipping on orders of $50 or more.
(Expiry: Unknown)