Huge Discounts on bObsweep Robotic Vacuums from $330 @ Shop.ca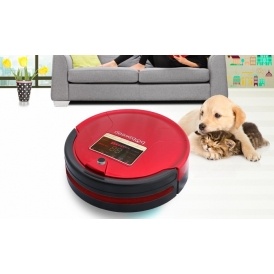 Ugh! I just swept my floors and I wish I had one of those robotic floor vacuums. I am endlessly cleaning up pet hair thanks to my two dogs. If you are in the same boat and want a good quality robotic vacuum (or even mop) then check out this Spring Cleaning Sale at Shop.ca. Right now you can get up to 65% off these bObsweep vacuums with prices starting at $329.99 including shipping.
I really wanted to tell you about just one of these bObsweep vacuums but I couldn't pick just one. They are all good for different lifestyles and they are all very reasonably priced right now. Maybe you can hint that this would be a fab Mother's Day gift? I know I would appreciate not having to sweep every day. Saying that, you will probably still have to sweep occasionally to get the nooks and crannies that these machines can't get into. So don't expect to throw out your traditional broom completely.
The best bang for your buck is going to be the classic bObsweep bObi, which is on sale from $938 down to $329.99. Isn't that incredible? The 65% off speaks for itself but this vacuum is going to be great for your everyday life. Get a bObsweep Robotic Vacuum Cleaner and Mop for just $20 more - it is on sale from $599 down to $349.
Now, if you have pets then you are going to want something more like the bObsweep PetHair Robotic Vacuum Cleaner and Mop which is on sale from $839 down to $359. You can have a read of the reviews to see if it will work well for your amount of pet hair or not.
Shop.ca offers free shipping on all orders big and small. That is one of my favourite things about their online store. That and the good discounts you can find if you keep your eyes peeled.
(Expiry: Unknown)