Well.ca Up to 75% off Holiday Overstock Sale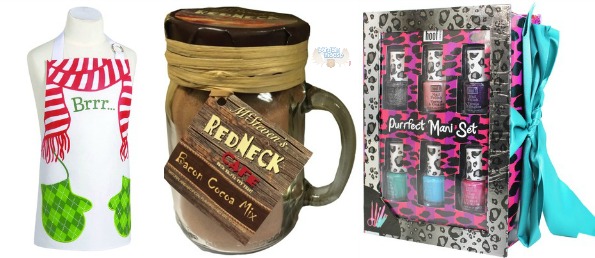 Well.ca has a very nice up to 75% off Holiday overstock sale on right now. Check out this post for a peak at the deals!
Well.ca is one of those places that I shop personally, as their deals are nice and, more importantly; they carry brands that I actually use on a regular basis. This holiday sale is a fantastic way to score some great prices on every day and gourmet items for the holidays!
First, i nearly died when i saw all the marvellous tea collections on sale. These make amazing holiday gifts to people 9like me) who drink lots of tea. The Tea Forte Single Steeps World of Teas Collection was $14.99 and is now $7.50, for five different blends of tea. While that sounds pleasant, I am just in love with this Tea Forte Coconut Teas Tin Gift Box  for the same discount. Coconut is one of my favourite flavours, thus finding an entire collection centred on it is very nice.
Are you looking for something to deck your halls with? The discounts on these stockings will keep money in your pocket and off your mantel, sort-of. This Fabric Stocking with Embroidery & Cuff was $11.49 and is now $6.89. However, my heart is set on the Big Thick Plush Stocking that was $17.38 and is now $6.95. There are less than 10 of these big beauties in stock right now, so hop on this deal quickly.
There are some other fantastic gifts in this sale. Many women I know would love to get their hands on this Hoof Purrfect Manicure Set for only $8, originally $19.99. The set comes with six nail polishes, a cuticle pusher, scissors, tweezers, nail file and nail clippers.
Of your children are helping you out with the baking this holiday season. Why not get them their own aprons? That does not have to be a costly endeavour with this Now Designs Kids Brr Apron for just $6.79, originally $16.98. I think kids will love the design and have a lot of fun as well.
Last but not least, this Redneck Cafe Bacon Hot Chocolate Mug is the gift for the redneck that has everything. Yes, it is bacon flavoured hot chocolate. Originally $12.98, you can purchase this unique gift for just $6.49.
We also have the Well.ca exclusive coupon code BMOOSENEW for $10 off $40 for new customers. I have heard reports of old customers being able to use the coupon code as well, so try using it when you check out to see if you can get an extra sweet discount.
Receive free shipping on orders of $25 or more.
(Expiry: Unknown)