Walmart Canada: Zoomy School Bus Was $80 | Now $50 + Free Shipping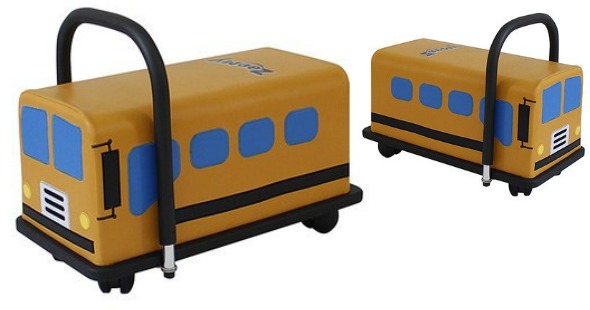 *Bump! This cool ride-on toy is back in stock!*
If you're looking for something fun for the kids, then this might just be it. The Zoomy School Bus at Walmart Canada was originally $80 but it now on clearance sale for just $50. The other Zoomy vehicles like the fire sold out extremely quickly when they went on sale for $40, so I thought this was an excellent deal to share with you Moosers. There are a few different shipping options available through Walmart.ca as well, but generally most areas will get free shipping since this item is $50.
Little girls and boys will instantly be attracted to this adorable Zoomy School Bus. Since it is on sale for just $50 instead of $80, your wallet won't mind that your kids want to take this Zoomy Vehicle home. The Zoomy School Bus has free moving casters, so your little one can use their full imagination to drive forwards, backwards, sideways or just around and around. And since the caster wheels are rubber coated, they won't damage your floors. This will also make a fabulous Christmas gift!
Just take a look at what other retailers are selling this Zoomy for:
The Zoomy School Bus itself boasts stitched PU leather and a bright and friendly design. The base is constructed of a durable, thick plastic for optimal enjoyment for several years. I would suggest you  gate off any stairways you may have though. I have heard of many cases where children drive these right down the stairs when their parents take their eyes off of them just for a split second.
To give you an idea of the finished product dimensions once it is assembled, Walmart.ca has listed the size as 26" long by 47.50" wide and 29" high. This ride-on is best suited for children ages 2 through 5 years of age and up to 66 pounds. It looks like a much higher quality than the Mega Bloks Jeep I had for my son, and he played with that for such a long time. If he were a tad bit younger I would snag this offer for him.
Walmart Canada has a few different shipping options available, so choose the one that suits you best. If you live near the Greater Toronto Area, Walmart Canada has the Grab & Go lockers which you can have your purchase shipped to for totally free. Otherwise you can have your products shipped to your local Canada Post office for free. Since this item is $50, Walmart.ca will ship your entire purchase right to your front door at no extra cost.
(Expiry: Unknown)