The Body Shop Cyber Monday: 50% Off, Free Shipping on $40 & Free Gift On $75!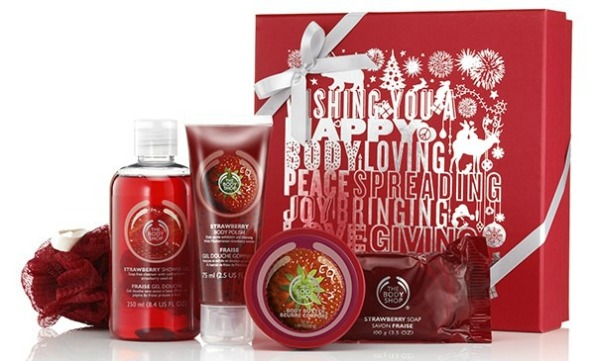 Ready, set, shop! The Body Shop Canada has launched their Cyber Deals promo for Cyber Monday and it is time to get your Christmas shopping done for those people who love smelly stuff. There are lots of items with a 50% off discount, plus you'll get free shipping when you spend $40 and a free gift with any $75+ purchase. You can choose your favourite free gift at the check out process.
So it appears that the 50% off discount applies to regular priced items site wide, so save some money on items that The Body Shop Canada is most famous for. These items range from bath and bodycare to skincare or even fragrances.
I went straight for the Strawberry theme items at TheBodyShop.ca during their Cyber Monday promotion. These items contain the strawberry seed oil and have a delicious scent - oh I just love it. I have the Strawberry Puree Body Lotion sitting on the side of my bath tub, and I use it religiously. It leaves my skin soft with a hint of strawberry scent. It would have normally cost you $14, but now you can get it for just $7.
It goes great with my Jumbo Strawberry Shower Gel. I won't use anything else unless I score it for a great deal, and this is considered a great deal for me right now. It was originally $25 but during the Cyber Monday sale at TheBodyShop.ca it will be just $12.50. While I am a little disappointed that the Jumbo Strawberry Body Butter is not included in the available discounts, I am content with just snagging the Strawberry Body Butter at $10, which is half of the normal price.
So here are some of the specials available at TheBodyShop.ca, but they won't be discounted by a further 50% discount:
2 for $16 Crackers & Cubes
2 for $25 Tubes & Sweethearts
3 for $20 Hand Creams 30ml
3 for $20 Lip Gloss
3 for $12 Seasonal Sponges
3 for $12 Colour Crush Nail Polish
3 for $12 Lip Butters and Balms
4 for $12 Soaps
Up to 70% off sale items
I love the Christmas Crackers they have available this year. Every Christmas dinner that I host has to have a cracker on each place setting. These are going to be better than the normal crackers I purchase, I can tell already. They are normally $10 each, but during this promo you will get 2 for $16 which makes them $8 each.
Plus I also love the Seasonal Sponges. They would make fab stocking stuffers and I will even keep one for myself. At 3 for $12, can you really complain? They have a Sponge Bear, Sponge Owl, and Sponge Robin. They are normally $6, so essentially you are getting 3 for the price of two.
During these Cyber Deals TheBodyShop.ca is offering free shipping with any $40 purchase. You will also get a free gift when you spend $75, so that might be in your favour. With the 50% off discount I am sure you will have no problem spending $75 on supplies from The Body Shop Canada. I mean, their products make great Christmas gifts and stocking stuffers after all.
(Expiry: 30th November 2015)