Team Buy Canada: $10 For A 6 Wheel Nail Art Set, Tax Included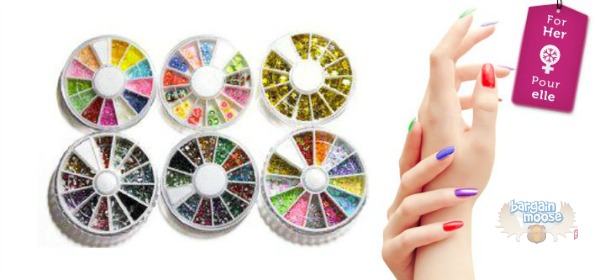 Team Buy Canada is offering a 6 wheel nail art set for only $10, tax included; that's a $40 value. All you do is purchase your Teambuy, pay shipping, enter information and product will be mailed to you. Offer is valid until November 21st 2012 and there is no expiry on the teambuy.
Each wheel has an assortment of different fun decorations to spice up your nails for any occasion or just for fun. With the holidays approaching, you may want to match your outfit. This would also make a great stocking stuffer for any girl on your list.
Wheel descriptions:
Wheel 1 – Assorted fimo cane fruit slices
Wheel 2 – Multi-coloured (pastels) pearl beads
Wheel 3 – Gold filigree butterflies
Wheel 4 – Iridescent cutouts in different colours (includes hearts, flower, stars)
Wheel 5 - Round rhinestones in assorted colours
Wheel 6 – Oval rhinestones in assorted colours
Each wheel measures 6" in diameter and 2 cm in width. I think it would be awesome to go out shopping for an afternoon with a nice shade of green on my nails and perhaps a slice of watermelon on each nail.
Shipping: $5.
(Expiry: 21st November 2012)