(Save up to 79%) Colourful Crayo Watches from $31.20 (Includes Shipping & Tax) @ Thiscounts.ca!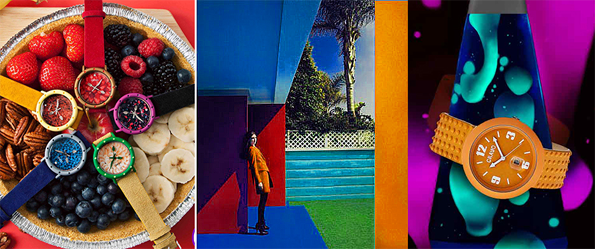 The folks over at Thiscounts.ca have emailed me details of a deal which they are having this weekend. I took a look and using my superior deal-hunting knowledges and leet skillz, I found that it's a really sweet offer and wanted to share it with the Moosers! First of all, they are having a sale on their colourful and funky Crayo watches, with up to 74% off the base prices thereon. Secondly, you can create a new account and get an extra 20% off the prices shown. Thirdly, all prices already include taxes. Fourthly, there's free shipping on everything too. So, these four aspects combined actually make for a really hot deal on these super-cute watches.
I'm going to be stating some prices below and these all take into account the 20% discount for setting up an account on Thiscounts.ca. That's easy to do and should only take you a minute.
The prices on these Crayo watches start at $39 (or $31.20 with the extra 20% off), on the likes of the basic button watches. Here's a screenshot illustrating the shopping cart with the discount, taxes, and shipping included: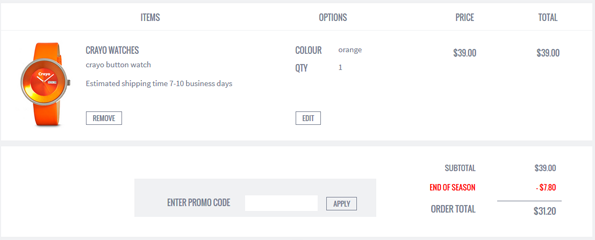 But the lowest price watches aren't the highest percentage discount, or necessarily the best deal. For example, the Crayo rugged men's watch was $175.50, down to $46 and then $36.80 with the extra discount. That's a 79% discount overall.
If you already have an account on Thiscounts.ca and can't make use of the extra 20%, then use our exclusive coupon code for 15% off instead - it's MOOSE15COUNTS. However, you'd be better seeing if someone else in your house could make an account and place an order to get the extra discount. ;)
Now, being the savvy Bargainmoosers that we are, we don't always take the "was" prices as given, and we always price compare to see how these prices shape up to deals elsewhere. I checked the prices of Crayo watches at a few other sites. I found that they were around $120 on Amazon.ca, but they Crayo watches were a bit lower on Shop.ca, coming in at around $75. Even so, they're really sweet prices on Thiscounts.ca especially considering that's the bottom line – no extra taxes, no shipping, etc.
These are cute and stylish watches and would make a great Christmas gift. Buy now while you've making a big saving and put it away for Christmas!
(Expires: 20th September 2015)