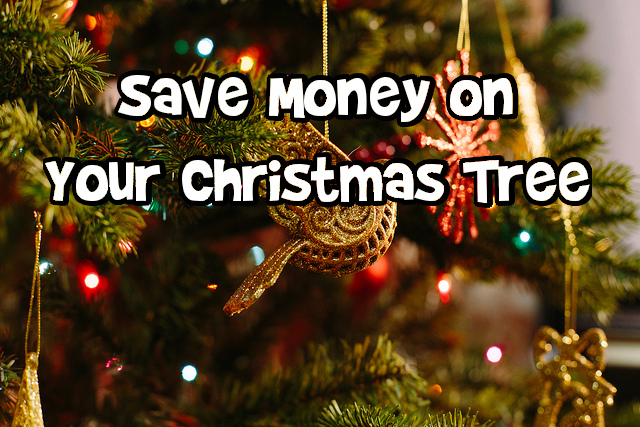 With Christmas around the corner, many people are taking their Christmas trees out of storage and getting them ready to be the centre of attention for the next few weeks.  Even more people are probably going to their nearest Christmas tree lot to look for the freshest and nicest tree... ready to shell out $100 for that fresh scent and authentic tree experience.
However, if you're like me and you live in an apartment (where many by-laws do not allow you to have a fresh/ real tree in your apartment because of fire risk) then you may want to think about alternatives that can be good for the environment (and plastic Christmas trees tend not to be the best for the environment) and also good for your wallet.
Admittedly these ideas are probably more practical if you don't have young children in the home, but they are still great ideas!
Here are a few ideas to save you money on your Christmas tree this year, especially if you're open to thinking about an alternative Christmas tree:
DIY White Christmas Tree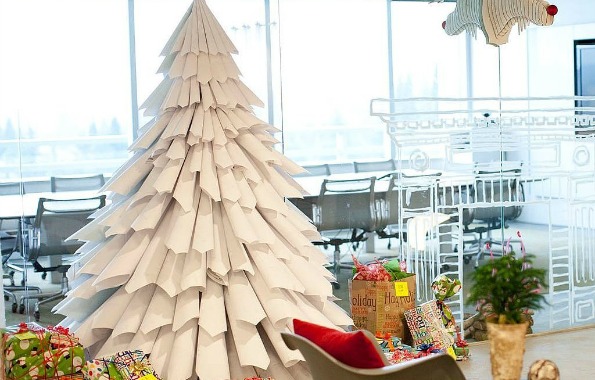 For the ultimate frugal Christmas tree, why not make it out of paper?  Popsugar has a great Do It Yourself article on how to make a Christmas tree entirely out of paper.  Extra props if you use recycled paper or paper you are planning to recycle anyways to make your tree.  I love how modern and minimalist it looks!
Tomato Cage Tree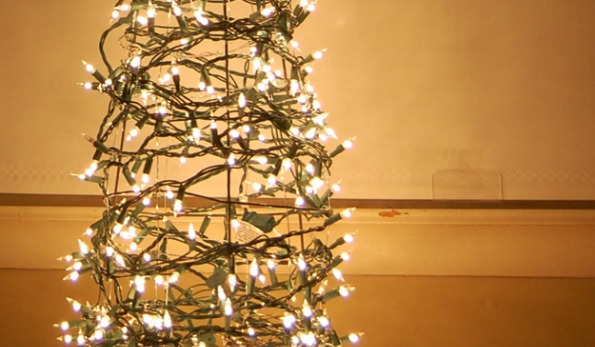 From Buzzfeed I love how this looks so amazing and is yet so simple.  Just grab a tomato cage and some lights and wrap it around and around and you are ready to make a beautiful tomato cage tree (it will be the centre of attention and discussion at your next party, I'm sure--"How'd you make that?")
Christmas Card Tree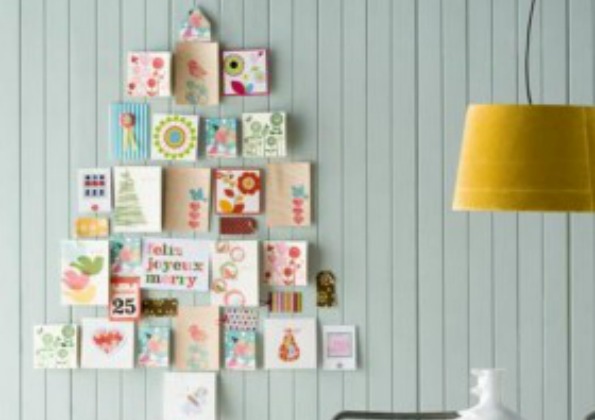 Don't know what to do with all the Christmas cards that you get?  Instead of placing them on the mantle or hanging them on a string across the room like everyone else does, why don't you try making it into a Christmas card tree?  Simple and elegant and a great reminder of all the loved ones you have.  Home Life suggests that you use blue tack to stick them on your walls, that way you can re-arrange your 'tree' as you get more cards.  Also you probably don't want to damage your walls which might be the case if you use regular tape of course!
Get a Potted Christmas Tree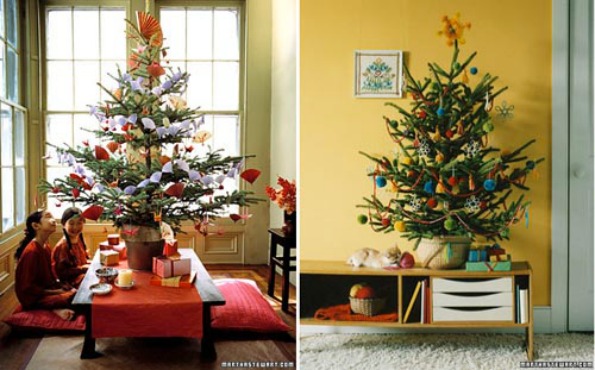 There are over a few hundred million trees cut every year just for Christmas.  The best alternative to buying a new tree (and throwing it away) is to buy a live, potted tree where after you use it, you can plant it into the ground (or have someone plant it for you) so that it is still alive for the next few years where you can dig it up and repot it again in your living room.  A small potted Christmas tree can look great in your living room, especially if you raise the bottom part of the tree, so that the tree looks bigger than it actually is.
Personally I would get an even smaller potted tree, but they are difficult to care for (e.g., they don't last well indoors).  One option is to go with a tree rental service where they drop off your live tree and pick it up and replant it for you.  However, this option probably isn't very economical, but it is good for the environment!
Go for a Cardboard Tree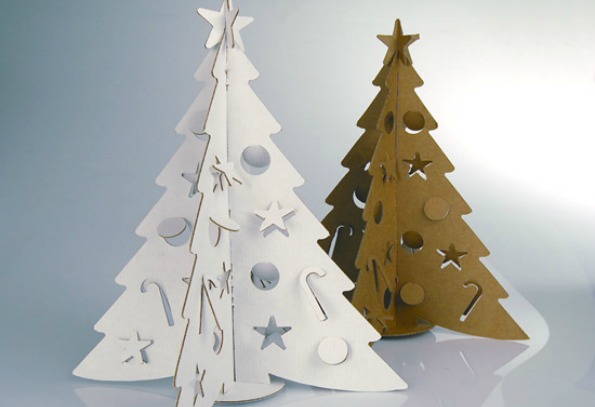 Instead of a paper tree you can get an even easier tree where you just need cardboard and scissors.  The Style at Home blog suggests getting a cardboard tree.  Literally thinking outside the (cardboard) box.  You can make a small one for your table or a larger one for the floor. Perfect for small spaces and great if you have pets (pets love tinsel, baubles, and can break your ornaments unfortunately), all you would need to do is fold it up when the holidays are over.  Although the company that made these cardboard trees doesn't seem to be in business anymore, I don't see why anyone couldn't make this themselves.
Bargainmoosers, have you ever used an "alternative" tree?  If not, do you usually have a "real" tree or a fake one?
Photo credit: Stephen Woods