Homesav Canada: Cozy In Cashmere Scarves Over 50% Off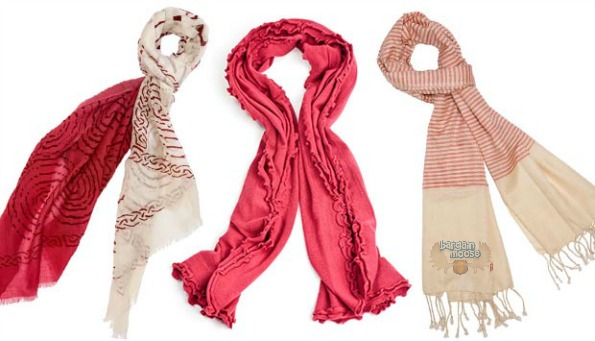 Homesav Canada has beautiful cozy cashmere scarves for sale at less than half price.  Many bright colours and styles are available and sale will end on November 18th 2012.
I love scarves and there's one here for everyone.  This Cashmere & Wool Lettuce Edge Wrap Claret was $416 retail and is now only $199.  Probably one I would choose for grandma.  This will be amazingly soft, being cashmere and I love the colour.
I might choose this 100% Cashmere Waterweave Scarf in Merlot for one of the guys on my list.  This is $309 retail and now just $99.  I love the colour. Merlot reminds me of a wonderful soothing glass of wine.
Here's a lovely Silk & Wool Popcorn Scarf Turquoise that was $106 retail and is now only $44.  This is 60% silk and 40% wool in a popcorn stitch pattern.  The turquoise colour is quite bright and would make this a soft, bright scarf for the winter.
This Hand Rolled Silk & Merino Wool Ombre Wrap Violet/Green is unusually pretty.  This was $225 retail and is now only $89.  I love how the violet, green and gold colours fade into each other.  This would be great for any time of year, but does make a great stocking stuffer.
Shipping: Free on orders of $100 or more.
(Expiry: 18th November 2012)