BOGO 50% Off Tumblers & Extra 30% Off Site Wide Coupon @ Teavana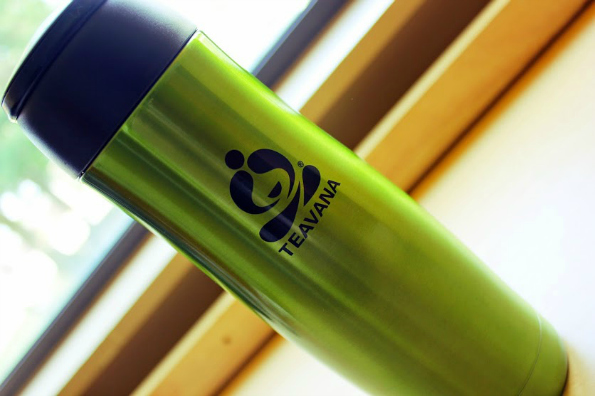 Teavana has an interesting combination of promotions. Currently, they have a buy one get one 50% off tumbler deal valid on Teavana brand tumblers only. Then, they have a 30% off code (see below) that is valid on everything on their website including the BOGO 50% off tumblers. I have long lost all the pieces to my current tea travel tumbler, so I am excited by this offer. Orders of $50 after the discount receive free shipping.
Click here to shop tea tumblers @ Teavana now
Coupon Code: FESTIVE
Discount: 30% off
Expiry: 13th December 2015
So I set about testing the coupon and the BOGO 50% off deal together. I wanted to get as many tea tumblers as possible - they make great gifts - for the least amount of money. I picked out these Copper Insulated Tea Tumbler for $26.95 each. I love the copper colour and they are insulated to keep my tea warm. When I stuck two (2) into my cart, $13.48 was taken off my total.
The I added in a couple Mack Tumblers from Teavana. They come in three different colours so they make great Christmas gifts if you do not want to have matching tea tumblers with your friends. In fact, you could get one copper and then all three colours of these Mack Tumblers for four different coloured Tumblers. You will never accidentally drink out of the wrong tumbler again. Each of these tumblers is also $26.95 each so I stuck two on my cart.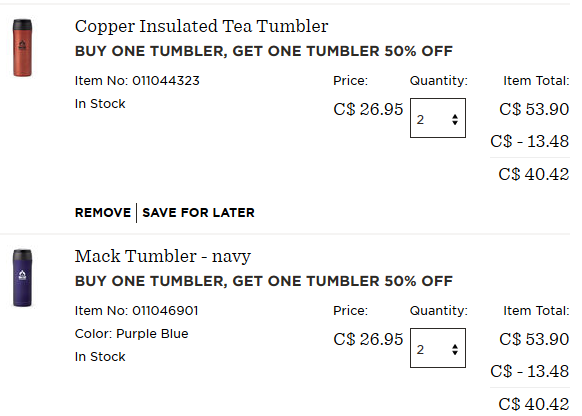 As you can see - I save 50% on the second tumbler for every pair of tumblers I order. Here are two pairs - four tumblers - in my cart and they are already the equivalent of 25% off (50%/2 = 25% off each tumbler).
Now for the coupon code. The 30% off coupon works site wide and even combines with sale items and promotions like this. I added on the coupon and an extra 30% is taken off all the contents of my cart:
That is four tumblers for $56.59, which works out to $14.15 per tumbler. I also receive free shipping because my order is just over $50. Now, you can mix this up different ways. Only buy two tumblers and then throw some sale tea in the mix. Add in a discounted tea gift set with your tumblers. Either way, you are scoring a great deal at Teavana right now.