Staples Canada Boxing Day 2014 - Now ON!
24 December 2014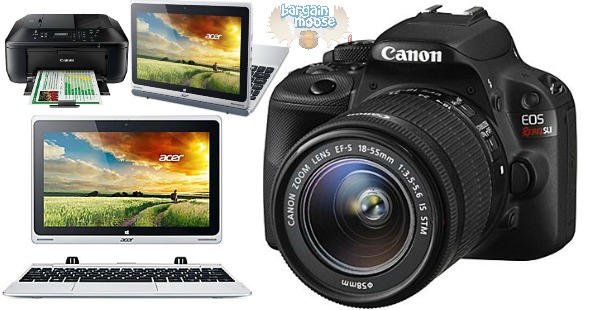 Staples Canada has released their Boxing Day Canada 2014 flyer. Their Boxing Day sales have started today, on the 26th of December and will last until the 2nd of January 2015. Most of their locations will open as early as 8 AM on 26th of December.
The savings look pretty juicy in this Staples Canada Boxing Day 2014 flyer, so prepare yourself and make some notes of what you want to shop for. There is a lot of competition for deals on electronics, TVs, computers and more this Boxing Day so remember to make sure these are the lowest prices around. The price comparisons could change when other Boxing Day flyers come out for other retailers.
The Acer Aspire Switch 10.1" Convertible Notebook is on sale for $299.99. This notebook was previously priced at $429.92, so that is a chunk of savings right there. This Acer Aspire Convertible Notebook features 1.33GHz Intel Atom Quad-Core as well as 2GB of RAM and 32GB SSD, making it more than adequate for day to day use. The Acer Aspire Switch 10.1" Convertible Notebook is $359 @ Amazon.ca.
Some may say that pictures are worth 1000 words - but what about the camera that takes the pictures? This Canon EOS Rebel SL1 18MP DSLR Camera was worth $539.55 but during this Staples Canada Boxing Day Sale, you will pay just $479.55. This Camera comes with 18-55 mm f/3.5-5.6 IS STM Lens and is black in colour. This DSLR Camera compares at $519 and is already sold out at that price @ FutureShop.ca. This Canon EOS Rebel SL1 18MP DSLR Camera is $544.37 @ Amazon.ca.

After taking all of those wonderful photos, you won't want to spend a fortune getting them printed somewhere and then having to wait to receive them. During this Staples Boxing Day sale you can also purchase the Canon PIXMA Wireless All in One Inkjet Printer for just $34.93 instead of the previous price of $99.93. There will be a minimum of 3 per store so get there early to snag one. This Canon PIXMA Printer is on sale for $89.99 @ Amazon.ca.
These offers will be available online as well as in stores. You can attain free shipping online when you spend $45 or more. You can also choose to receive free in store pickup. Online at Staples.ca you can shop as early as the 24th of December but in stores you will have to wait until the 26th of December 2014.
Here are just the first few pages of the Boxing Day Flyer @ Staples Canada. You can view the full flyer here.
[gallery link="file" ids="201075,201076,201077"]
(Expiry: 2nd January 2015)