It's Beginning to Look A Lot Like… Boxing Day!!
26 December 2014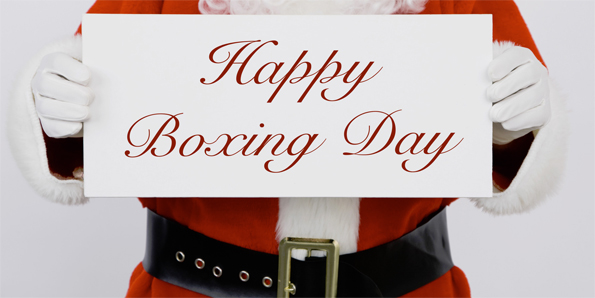 BUMP: It's officially Boxing day and the biggest shopping day of the year in Canada!!!
We're only a few days away from It's the biggest Canadian shopping day of the year - at least according to Bargainmoose statistics from previous years! Yes, it's almost Christmas, meaning Boxing Day is not far behind. And the Boxing Day sales are starting to get into full swing. I am sure most of you already know about our amazing Bargainmoose Boxing Day deals dashboard, which we are constantly updating with all the latest offers as and when they are released.
When you are browsing the Bargainmoose blog, you can easily get to the Boxing Day dashboard by hitting that "see deals now" button under the countdown, at the top right of the site.
On the Boxing Day sales dashboard, our deal-hunting elves are finding all the Canadian Boxing Day deals and flyers, and posting up all the best information for your viewing pleasure. We've already posted hundreds of deals on there, and there are thousands more to come.
We're highlighting some of the most popular stores on there such as Walmart and Amazon, but you can find the Boxing Day sales information from many smaller Canadian boutiques and stores too. If you click the link to View All Boxing Day Sales at the top of the dashboard, you will see a list of every single store that has a currently active Boxing day deal or flyer. I'd highly recommend stopping by that page on Boxing Day to see what you can see!
But there's already quite a bit of information available, such as the online start dates and times of many of the popular stores. For example:
We've also got flyers for many of the above stores, some of which we've already blogged about and all of which you will find on our Boxing Day dashboard.
Note to newsletter subscribers: if you wait and read the Bargainmoose daily newsletter each and every day, you're going to miss out on some hot deals! In the last few weeks, the team has been finding deals that last only minutes, so you need to check in on the Bargainmoose blog many times throughout the day.
What store are you planning on buying from this these Boxing Day sales?
Happy shopping!
(Expiry: unknown)