Bargainmoose Boxing Week Contest!
21 December 2011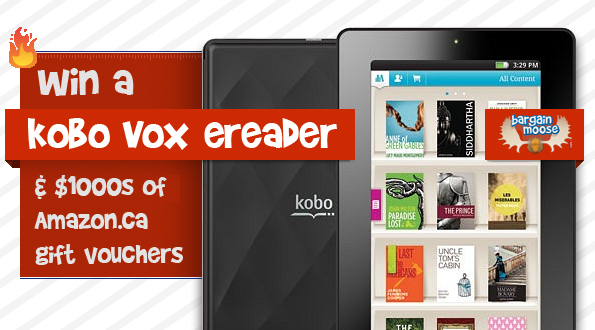 *** Contest now closed - winners to be contacted soon ***
We're really in the gift giving mood this holiday season! For the last month or so, it has been non-stop giveaways, and it isn't over yet! To celebrate the super Canadian shopping time that is known as Boxing Day, we've got even more goodies to get rid of. Look and see:
TOP PRIZE - New Kobo Vox eReader!
I've actually got no idea why I'm not keeping this for myself!
MORE PRIZES - Potentially $1000s in Amazon.ca gift vouchers!
We'll be awarding the bargain-hunting moosers with some super gift vouchers.
How to enter this contest:
Share the best deals, coupons, freebies and flyers on the Bargainmoose forums!
The hottest deal posted during the whole of the contest period will win the Kobo Vox eReader!
And for each 24 hour period, for the Bargainmooser that shared the hottest post during that time, we will award them with a $10 Amazon.ca gift voucher.
You might have noticed that you can now upload FLYERS to Bargainmoose. If you upload an eligible flyer that's not yet been seen on Bargainmoose, we'll give you a $10 Amazon voucher. So for this part of the contest, there's the potential to pull in quite a lot of prizes. Just make sure you've scanned or taken pics of the flyers yourself, and they're not already on Bargainmoose.
SURPRISE awards: If I feel that a Mooser is being really pro-active in the community, they may get a surprise $10 Amazon award - I'll be roaming the forums, looking for opportunities to give away some cash.
Voting:
The contest is really about the magic little voting button, you can see it here on all forum deals:

Hot Deal Tips:
Don't post every single deal you can find. Post the scorching HOT ones. You'll have a better chance of getting the hottest deal of the day. Do some price comparing, and in your post, tell the other moosers why it is such a good deal and why they should vote it hot. Explain your reasoning, and you will roll in those hot votes!
And be kind - vote on other people's deals too. If you think it's a good deal, vote it up!
Rules (Gotta have them!)
Ends 5th January 2012
Canadian entrants only
One entrant per household
Rules subject to change, admin's decision is final
All winners announced at end of contest period
So there you have it! I know there are quite a few parts to this contest - but the basic premise is: SHARE HOT DEALS! I am hoping to see the Boxing Day deals roll in - good luck everyone! Please post queries and questions in the thread below.