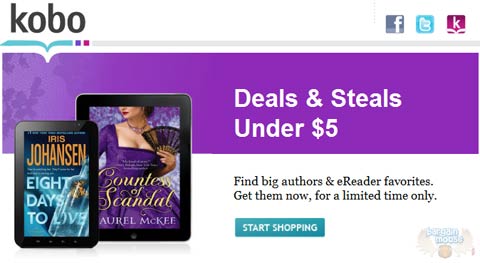 If you're looking for a few cheap reads, there are a load of deals on eBooks for less than $5 from Kobobooks.
Here are a few examples of the cheap eBook deals:
Those prices above are shown in US dollars, so the Canadian conversion should be a few cents cheaper. And for most of the eBooks, you can read them on you PC, eReaders, smartphones or tablets.
And don't forget, that you can probably use a Kobobooks coupon code on your order too. You might be able to save a few dollars or even 35 to 50% on your order!
And speaking of that last author, John Locke: did you know he is the first self-published author to sell 1 million kindle eBooks? That's an amazing feat... and what did he do then? He wrote an eBook about it! Amanda Hocking (also mentioned above) is also a really successful self-published author, but she's now taken a publishing deal. That sounds like a bit of a dream come true... I'd love to write an eBook! But mine would likely be about robots or psycho-kinesis.