Entertainment Coupon Code: 50% Off Mobile App - Now $10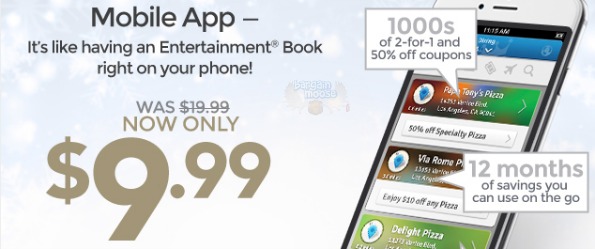 The Entertainment Book now has a mobile app that you can purchase instead of the book! It is like having the book on your phone, which is far more convenient than carrying the book around. Use the coupon code below to purchase the Entertainment mobile app for just $9.99, originally $19.99.
Click here to view the Entertainment mobile app @ Entertainment Book now
Coupon Code: CHEER
Discount: 50% off mobile app
Expiry: 17th December 2014 (code still working on the 18th)
The mobile app gives you digital access to all Canadian coupons and deals for only $9.99 a year. Seriously, you would be insane not to pick up this deal as you are bound to use enough coupons to cover easily the price of the app and save money on top of it. This app makes it easy to travel, as the coupons appear not to just be for your own city, but also for the rest of Canada as well. If someone could confirm this, I would be grateful!
This app is better than the book in many ways. First of all, who actually carries around a book these days? With the mobile app you do not have to carry the book with your or pre-plan what coupons you are going to use. All the coupons are on your phone at the touch of a button. If you decide on an impromptu trip to the local gardens, then make use of that 2 for 1 admission instead of missing out.
The only downside I can see, if that, is there are probably less region specific coupons on the app then you get in the book. That is my assumption, I could be wrong. I remember that the mobile version of the entertainment Book for Edmonton often had fewer coupons. However, for some of the restaurants you could find monthly coupons on the mobile version to use instead of being limited to the one or two you found in the book.
I am pretty sure the coupon code expires tonight (though I hope they extend it) so take advantage of this little gem before it goes! The best Christmas gift is an early start on saving in the New Year.
For this and any future Entertainment coupon codes, visit our forum.