Entertainment Book: $17 Books & Free Shipping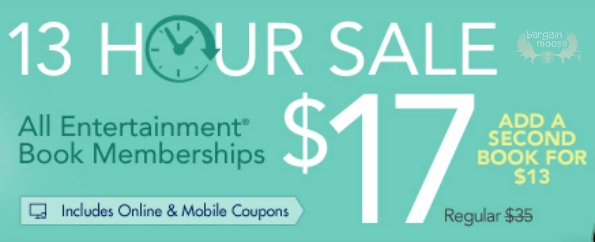 Entertainment Book is having a great sale on their coupon and discount books. You'll get the first for only $17 (reg. $35) and all subsequent books for $13. These make great gift ideas. The books also ship for free.
Even though we are into March, these books still have a number of month's use on them as the digital coupons are available for one year from purchase date. There are so many coupons you can use in different cities across Canada and also in the U.S., if you wanted to gift one to someone there.
While there weren't many coupons for local services in my city, some of the bigger brands have coupons I can use. These include Avis, Kernels, Marble Slab and more. I also have access to a number of online retailers like Hotels.com, Wine.com (insert fist pump here), and Shoes.com.
I can save a ton of money at the ones I shop at most, but I'll definitely get my $17 back in savings just on one use at Hotels.com, where I can save 10% off the already discounted rates. As I will heading on vacation soon, I'm seriously looking into what I can save on hotels, car rentals and flights by getting the Entertainment Book.
While Entertainment Book bills this as a 13-hour sale, I don't see an expiration date, but I wouldn't wait to get your book for the deal price, in case the sale ends!
(Expiry: Unknown)