Chapters Weekly Sales up to 50% off + More!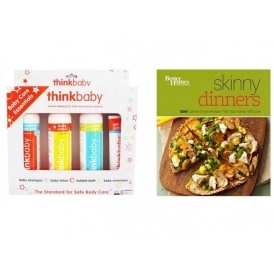 Yesterday was the most 'blue day' of the year for Canadians, statistically speaking. Now is the perfect time to treat yourself to a little something.
Starting today, Chapters has sales on selected items with up to 50% off and they have free shipping with no minimum spend! Some restrictions apply. Offer runs until Friday, January 20. Don't miss out!
This Thinkbaby care set is perfect for babies and is on sale for $19.95 after saving 60% off. Trying to eat healthier with cookbooks for $10 and under will be inspiring! This Better Homes and Gardens Skinny Dinners paperback is $10 from $27.99. (The current Amazon price on that one is $27.99.) Boogie Boards can help you stay true to your goals when you jot reminders for yourself. They're priced at $29.96 after saving $10.
Here are a whole bunch of new deals that just started today. If you click on Deals of the Week you'll easily find the sale items mentioned in the list below:
· Up to 40% off the Top 10 New Year, New You books
· 25% off select Moleskine items
· 20% Off Gaiam Yoga Accessories
· 20% off select Lunch Containers and Water Bottles
· 20% off select Star Wars toys
· 25% off select Boogie Boards
· 20% off Baby Carriers and Baby Wraps
· 20% off Thinkbaby Baby items
· 40% off Fuji Instax Share Printer

· Up to 50% off Home Accents & Holiday Décor
· Up to 50% off Journals
· Up to 60% off Bags & Totes

Shipping is free with no minimum spend, until Friday, Jan. 20th.