Chapters Indigo: Heather Tote Was $55 | Now $19 (FS @ $25)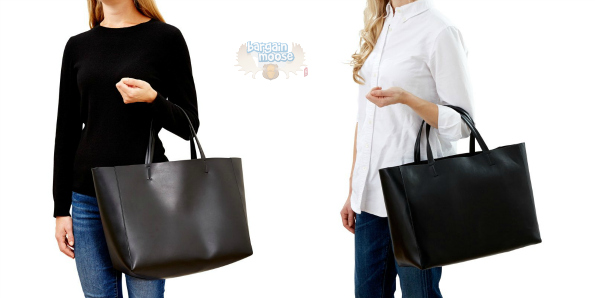 Chapters Indigo Canada has discounted the heather Tote (black) from $55 down to $19.50. Receive free shipping on orders of $25 or more.
There is something a bit odd with this deal: it occurs in two separate places under two different links. It is the same bag and has the same description (and discount) but there are different reviews and different stock totals in store. The first link is above, and the second link is here. In case one goes out of stock, you probably will be able to buy it through the second link.
This tote is an oversized polyurethane bag that can be stuffed to the brim! Take it to the market and stock this tote full of fresh parsley, lettuce, tomatoes, peppers, and more. I went to my local market yesterday and did not bring a big enough bag!
You can also use this bag for local trips to the beach. The bag will easily fit a couple swim suits, goggles, towels, and sunscreen. I like oversized totes like this because they are versatile. They adapt to your living style. Some people leave totes in their trunks as a way to sort the trunk. Store tennis balls, rackets, footballs, and golf balls in this tote. One reviewer said:
I purchased this in the early fall and 6 months later its still perfect. I love that its easy to wash (with all that winter calcium!) I use it as a work carry on. It often stays in my car's trunk and despite the temperature changes, its not cracked or damaged.
The tote measures a generous 15.6" x 12" x 6". It has a handle for carrying and an inner zipper pouch for essentials you do not want lost. Besides that, it is just one large compartment that will fit all your necessities.
Other Heather bag colours are on sale as well but the sale price is not as steep. The black is by far the cheapest, and under $20 is a good price for a tote of this size.
Receive free shipping on orders of $25 or more. Alternatively, you may be able to pick up your order on store at no extra charge.
(Expiry: Unknown)