Chapters Indigo Canada: March Brickbreak with 20% Off Select LEGO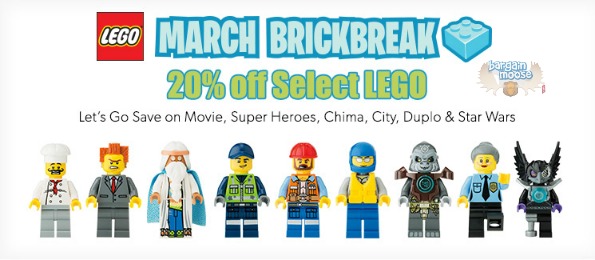 For the month of March, Chapters Indigo is offering 20% off select LEGO sets.
With the LEGO movie that was just released, LEGO mania is real. I think I've stepped on enough LEGO in my lifetime to not care, but my kids and husband are still in love with the stuff. We recently went to LEGOland, which was quite the experience and it was cool to see the City of Toronto built with LEGO. With hysteria, comes sales. I rarely see LEGO on sale for more than 20% off, unless it is a super clearance sale, so 20% is what you'll get.
There are a few categories that are on sale for this March Brickbreak:
LEGO movie
Super Heroes
Star Wars
City
Chima
Duplo
The LEGO movie stuff is practically brand new, so I'm sure the kids would love to get some of those sets. My kids have been saving their allowance, and it would be worth a trip to Chapters Indigo over the break to take part in the free activities and let them choose a new LEGO set. It also teaches them to only buy stuff on sale (I rarely pay full price!).
Or, I could order online now and have this here for them to put together over the break. Decisions, decisions. Shipping is free on a $25 spend, so it could be worthwhile to just get everything online, since it won't cost me any extra.
(Expiry: 16th March 2014 for LEGO movie and Superheroes/ 31st March 2014 for the rest)