Chapters Indigo Canada: Lord of The Rings & The Hobbit Box Set Was $50 | Now Only $9.50 (EXPIRED)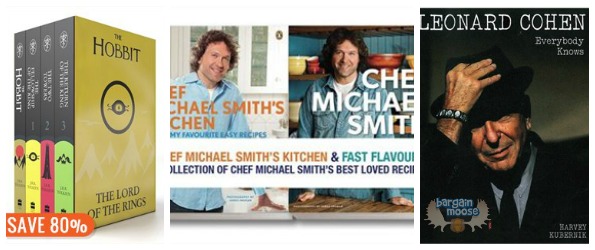 Chapters Indigo has a seriously fantastic deal on today with their 12 days of deals going on! Get The Hobbit and The Lord of the Rings boxset for only $9.50! These regularly sell for $49.99 each!
At first I thought each boxset was $10, but it looks like a combined set with the three Lord of the Rings books and the one The Hobbit book.
While this type of literature is not my thing, I know these books are very popular. My son is an avid reader and I am going to get him this as a Christmas gift. He loves mystical worlds and stories that have a lot of fantasy elements.
The set has three five star reviews, all saying how wonderful this set really is.
Amazon sells this set for $19, although it is the movie tie-in version, which looks a little different from this set. While that is quite a bit lower than the original price that Chapters Indigo is quoting, it is still $10 more than the set at Chapters Indigo. Sometimes Chapters Indigo has a hard time competing with Amazon on book prices, but in this case, Chapters Indigo wins!
Another phenomenal deal at Chapters Indigo today is on the Chef Michael Smith collection. I love Michael Smith and his simple and non-recipe recipes. That sounds pretty ironic, but I love that you don't have to follow the recipe perfectly to get good results. I am not the type to measure ingredients, so his ideas are absolutely perfect for me. You can get both his Chef Michael Smith's Kitchen and Fast Flavours cookbooks in this collection for only $14.25. This collection has a list price of $30, but I couldn't find it anywhere else. I did find just the Kitchen book for over $20 at Amazon. This is going straight into my cart.
Finally, any Leonard Cohen fans will love Everybody Knows, on sale for $19, regularly $35.
Shipping is free on a $25 order, so you might want to peek at what other items are on sale to waive these fees from your cart.
(Expiry: 5th November 2014)