Chapters Indigo Canada Coupon Code: 10% Off Books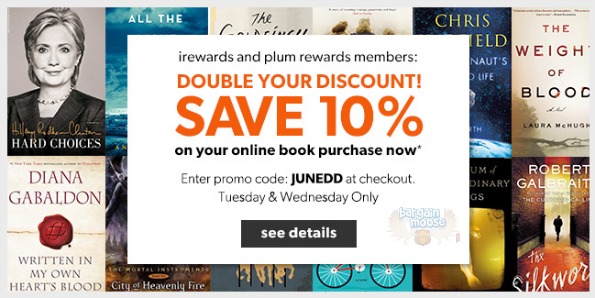 Chapters Indigo Canada has a two-day only promotion where you will receive 10% off the list price of books, which is an extra 5% off books for Plum Members.
Click here to shop books @ Chapters Canada now
Coupon Code: JUNEDD
Discount: 10% off books
Expiry: 25th June 2014
Use this coupon on any books you want: hardcover, softcover, sets, and more.
Books are so personal that I really can only share what I will be buying with this coupon.
I love Canadian artist Camilla D'Errico and her Tanpopo Volume 2 is now available for pre-order and scheduled to be released on the 8th of July, 2014. The story is about a girl who could not feel any emotions; she was like a machine, so she makes a deal with the devil - Kuro - to experience the world. It really mixes a lot of classic literature with stunning artwork and a beautiful story. Originally $29.50, it is on sale at Chapters for $18.50 for Plum members. After coupon code, it comes down to $17.58.
The 13 Clocks by James Thurber is a book I recently found out about through Neil Gaiman's twitter. He is hosting the Wall Street Journal book of the month club and he has chosen this book as the one you just must read. Gaiman talks about how Thurber beautifully plays with language and I cannot wait to read it. The book is $12.24 for plum members, and comes down to $11.63 after coupon.
On the subject of Neil Gaiman, of whom I am a big fan, I will also be pre-ordering his book Hansel And Gretel (a Toon Graphic) very soon. The illustrations by Lorenzo Mattotti look stunning and fit Gaiman's dark take on the world. While this is a retelling of a classic fairy tale, I cannot wait to hear Gaiman's twist on the plot. The book will be released in the fall and you can pre-order it for just $13.03 after coupon.
I am also considering adding Asterix Omnibus 7 and Gunnerkrigg Court Volume 4: Materia to my collections as I already have the volumes leading up to those. Any of our readers fans?
This is certainly the time to buy books at Chapters Indigo as they do not often have the coupon code specifically for books. I know I am excited. Time to get caught up on a few collections and pick up a few more books for my summer reading list.
Receive free shipping on orders of $25 or more.
For this and other Chapters coupon codes, check out the forum.