Chapters Indigo: B2G1 Free (33.3% Off) Kids' Graphic Novels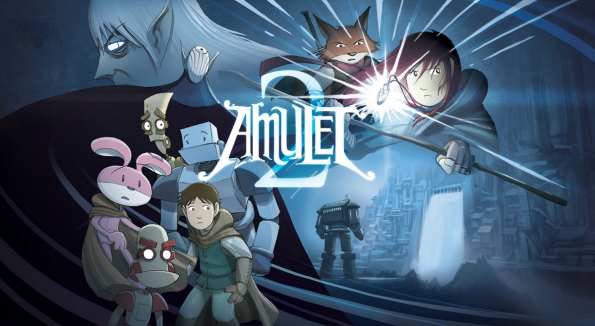 Buy two kids' graphic novels and receive your third graphic novel for free. The discount is actually taken off as 33.3% off each book in your cart so you can mix more expensive and cheaper books without fear of just getting the cheapest book for free. Overall, this is a more valuable discount as the percentage that adds up to one book free is taken off each book.
The legendary Amulet series is included in this offer. While Amulet is marketed as a youth graphic novel, there is plenty of depth for adults in the series. One of my previous professors actually cried through the first part of Amulet because the book hit a few soft spots in him. To me, Amulet is a series about bravery and about facing that monster in the darkness. Not only facing that monster but also pursuing him. Amulet Book One: The Stonekeeper costs $12.84, but comes down to $8.97 in your cart with two other books. The book is $12.59 at Amazon.ca.
Bones is an amazing cartoon-esque graphic novel from Jeff Smith. I have often heard people talk about what series they would take on a desert Island if they could only pick one. Frequently, I see adults choosing the Bones series as their desert island fair. Pick up Bone #1: Out From Boneville (Paperback) with two other books. Originally $13.02, the book comes down to $8.99 in your cart. The same books is $12.58 at Amazon.ca
Lost and Found is an acquired taste, I think. The art is fantastic and beautiful but it is also rather dark. yet, in darkness there is still hope. I found the book provided solace during difficult times. When added to your cart with two other books, Lost and Found comes down from $15.67 to $10.82. The same book costs $15.69 at Amazon Canada.
Because you receive 33.3% off each book to equal 'one free book', you must add books to your cart in multiples of three. There are plenty of books to choose from and though I included the first volumes of both Bones and Amulet, many of the subsequent volumes are also available with this deal. Receive free shipping on orders of $25 or more.
(Expiry: 10th August 2015)