Chapters Indigo Canada: 30% Off Slider Press & Plenty Of Other BBQ Accessories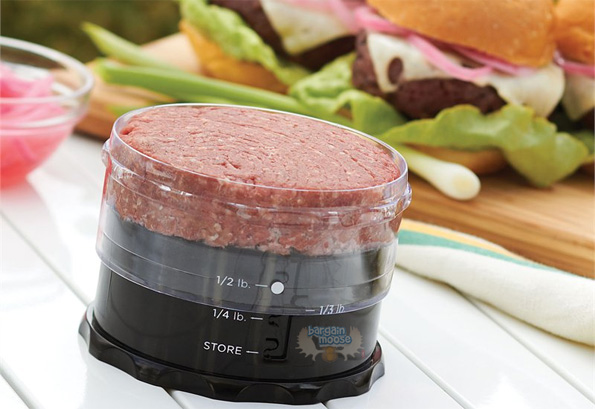 Awesome Father's Day deal alert! Save 30% on the slider press at Chapters Indigo and get it for just $4.20 (reg. $6) as part of their sale on BBQ accessories.
Use it to make round patties of either 1oz, 2oz or 3oz. Once all the meat has been stuffed inside, you can easily get it back out by pushing the base upwards and releasing the mechanism. You may be thinking that you can easily do this all by yourself without the help of some little contraption but fact of the matter is that if you're looking for a Father's Day gift, then an important factor to remember here is that dads love simplicity, especially grillin' dads who just don't have time to form perfectly round patties all the while juggling getting the fire going and making sure nothing burns.
A BBQ sauce set could also make for a great gift, especially since it's on sale right now for just $17.50 instead of its regular price of $25. It comes with the following three sauces: Kansas City-Style Honey-Apple Cider, Texas-Style Rum-Molasses, and Kentucky-Style Bourbon-Black Pepper. The last one on the list is definitely one I would want to try as it's noted to be "smoky and sweet with just a hint of heat". Sounds absolutely delicious, doesn't it?
You can even get a Jamie Oliver grill for just $84 (reg. $120). Since pictures can often be misleading, keep in mind that this grill is 16 inches in both diameter and height. I could see it being perfect for camping or perhaps even a quick trip to any park that allows barbecuing.
In fact, the burger press is the one that I originally set out to write about as it can be used to make either 1/4, 1/3 or 1/2 round patties and although it's out of stock online, it could be worth looking for it in-stores. Keep in mind though that the 30% discount only applies to BBQ merchandise sold online only.
As always, all orders over $25 automatically qualify for free shipping. If ever you need a filler item to reach this threshold, it's always a good idea to check the sale section.
(Expiry: 9th June 2014)