Chapters Indigo Canada: School Smart Books 50% Off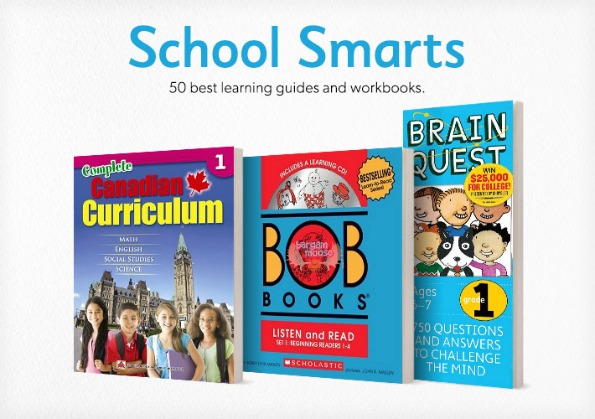 By now you should have a good idea where your child is getting at in school. If they need a little extra practice at home, Chapters has a number of school learning guides and workbooks on sale for 50% off.
I blogged this deal four days ago when the prices were 28% off, but now they are 50% off, so enjoy an even deeper discount!
My kids (are forced) enjoy doing activity books. While it isn't their favourite thing to do, I find it helps keeps them fresh and aware of what they are learning. Both of my older boys have needed extra help over the years outside of school and I find workbooks like these are helpful, even if the kids aren't always keen on doing them. Some of them are actually a little fun though, and they don't notice they are doing school work, especially the younger kids. It is important to me that the books have Canadian content in them, since there are so many differences between the American and Canadian systems.
Brain Quest can be really fun and I have bought the question and answer booklets every year since preschool. I think the kids really like it because you can participate with them, asking them the questions and giving them encouragement when they get the answer right. The booklets are $7.38, was $14.75. You can also get the workbooks, which were $16.50, now $8.15.
I almost wish I had waited to buy my oldest son his Complete Canadian Curriculum book, as I paid over $20 for it and it is now on sale for $9.85, was $19.95. These books are great and really do cover what they are learning at school. The price tag is worth it because this is a very large book, full of worksheets.
Looking at the other types of workbooks is too tempting for me as there are so many good ones. I will definitely be shopping this sale.
Shipping is free when you spend over $25.
(Expiry: Unknown)