Canadian Deals: Chapters Indigo 25% Discount This Weekend!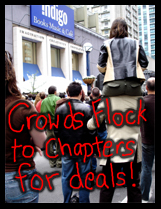 If you haven't yet used the $10 off $50 on toys… this coupon might work out to be a better deal for you! This weekend at Chapter Indigo stores, iRewards members will receive a 25% discount on everything – books, toys, DVDs, music – anything!!
Where

: In-store @ Chapters Canada

What

: 15% - 25% Discount

How

: Print and present the coupon

When

: 15th – 16th November 2008
If you're not an iRewards member, never fear, you can still get 15% discount. Just bring the printable discount with you.
There have been quite a few good deals from Chapters lately – I think they're trying to get us into the Christmas money-spending spirit!!
Thanks for the pic Word Freak.