Buy 2, Get the Third Free Dr. Seuss Books @ Chapters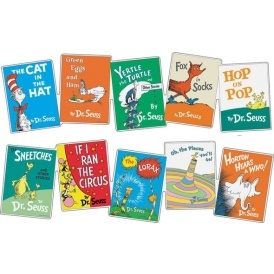 There's a Cat in the Hat, a Wocket in my Pocket and a Fox in Socks! Chapters has a promotion for our beloved Dr. Seuss books. Purchase two and get the third for free. This is a great way to stock up for birthday party gifts - you know they are coming! Easter is also almost here, so maybe the Easter Bunny can leave a few cute books out for your kiddos. What do you think?
I've been reading Oh, the Thinks You Can Think to our little guy and it's a tongue-twister but kids just love listening to that stuff. If you don't have that one, the storybook is just $16.50 at Chapters.
Board books are even better for very little ones as they're learning to turn pages (and throwing things) and there's a whole Dr. Seuss board book selection, too.
If you've got a kiddo with a birthday coming up, check out Happy Birthday to You! or The Tooth Book for those that are losing their first teeth.
Find two of your favourites and pick a third one for free! Once you add three books to your cart, the least expensive one will be discounted to zero at checkout. No codes - easy, peasy! (Seuss would like that phrase, I think.)
What's your favourite Dr. Seuss story, Moosers?
(Expires: 31st March 2016)