Bookcloseouts Canada: 50% Off Pet Books, 25% Off Literary Collections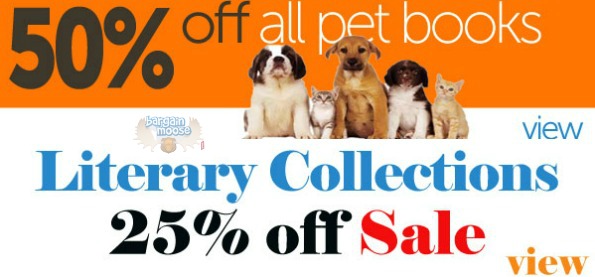 Bookcloseouts has renewed their current promotions and is offering an extra 50% off pet books and an extra 25% off literary collections.
We have two cats so any of these books would be very informative to read:
Be the Cat: Secrets of the Natural Cat Owner - Now $2.49
Cat Basics - $1.74
The Cat Owner's Problem Solver - $3.49
As an Enlgish Major, I am no stranger to literary collections. In fact I just bought the entire works of Shakespeare. Bookcloseouts has a few works by Shakespeare if you want to get your bard on:
Julius Caesar (Shakespeare on the Double!) - $2.99
Shakespeare's Sonnets and Poems (Folger Shakespeare Library) - $5.24
William Shakespeare on The Art of Love: The Illustrated Edition of the Most Beautiful Love Passages in Shakespeare's Plays and Poetry - $6.74
Expiry: The literary collections sale ends September 12th. The Pet Books sale ends September 19th.