Book Outlet Canada: 50/50 Section Shakeup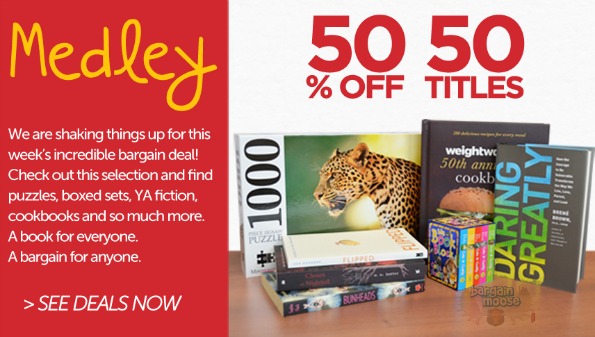 Book Outlet has a 50/50 section where you will find 50 great books on sale at an additional 50% off.  It lasts for two weeks at a time and the books usually have some sort of theme.  This time is  bit different.  They still have 50 items on for 50% off but this time it is a variety of titles and items to choose from without a set theme.
One of the big shakeups for this section this time around is that they are offering books, box sets and activity kits all at an additional 50% off.  Usually it is just books.  Looking through I have already started a wish list for Mother's Day to give to my husband.
Here are a few on my wish list:
There are also some great kids books included this time that would be a nice addition to their Easter baskets.  Easter is 2 weeks away now and Book Outlet ships fairly fast.  You would still have time to grab  few items for the little ones instead of just loading their baskets full of chocolate.
The cost of shipping is $3.99 and an additional $0.75 per item.
Additionally, use one of our exclusive Book Outlet coupon codes to save another $5 to $20 on your entire order.
(Expiry: Limited Time Offer)