Book Outlet: 50% Off 50 Kid's Fiction Books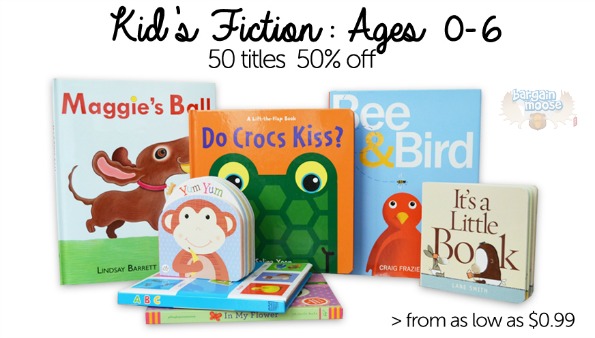 Book Outlet Canada has just restocked their 50/50 section with kid's fiction for ages zero through six. Get an extra 50% off the already discounted price on these books.
The Tickle Tree looks like such a beautifully illustrated book that I just want to buy it based on its cover. The book retails for $9.95, but is just $2.49 during this sale. I checked out review of the book on Amazon.ca and one reviewer mentioned:
It is a beautiful book. Draws you into each scene. The drawings are exciting but at the same time give a comforting-ready-for-bed type of feeling. There are also a lot of things to look at and find on its pages, which my daughter loves to do.
There are other books, classic books, that I am totally familiar with. Hey Diddle Diddle was a childhood favourite of mine. Originally $7.99, the book is now on sale for $1.99. Some of you might also recognize Cinderella which is on sale for $1.99 (was $9.99) as well as Goldilocks and the Three Bears which only costs $1.49 (was $5.99).
The cost of shipping is $3.99 and an additional $0.75 per item.
Additionally, use one of our exclusive Book Outlet coupon codes to save another $5 to $20 on your entire order.
(Expiry: 13th April 2014)