Book Outlet: 30% Off Family Week & Extra $5 Coupon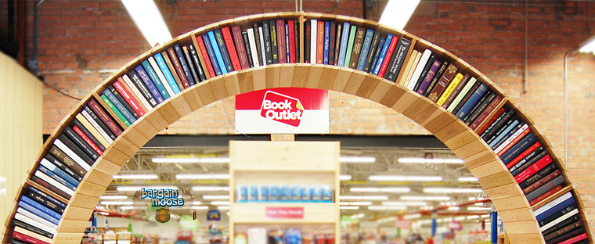 Heads up book-loving Moosers! Starting Friday, Book Outlet is offering 30% off all books, puzzles, games and more - their entire online store will be on sale. I am giving you a warning because you can earn a $5 off coupon code before that date hits.
Here is how it all works. Book Outlet is throwing a party and having a giveaway where you can win one of 10 $25 gift cards. All you need to do in order to receive your exclusive $5 off coupon code is invite two friends who then sign up for the giveaway as well.
The $5 coupon will be for use during the 30% off sale - sort of a double deal of sorts if you are willing to do a bit of work for it. I love combining coupons with sales, so I am going to get my unique link and then invite my friends to enter the contest as well. This is why I am posting about the 30% off sale early - you can earn a bonus $5 off! I think that is worth it.
Are you having trouble getting two friends to sign up to the contest? Here are a few suggestions:
Post it to your Facebook wall
Tweet about this promotion
Email your friends and family
If you do not have any friends and your family hates you, then as a last resort you might want to use multiple email addresses. However, I do not recommend it (I hate multiple email addresses myself!). I just posted on Facebook and Tweeted about the promotion. You can check back on the website to see how many friends have signed up to the contest. In addition, when eligible, you will be emailed the $5 off coupon to use from February 13 - 17th.
I am still on a new-book diet, so this coupon will be given to my partner. The last time I found a deal like this for him, he purchased Legends: Short Novels by the Masters of Modern Fantasy. The book retails for $21.99 and is currently $9.59. If my calculations are correct, the Legends book should be only $6.71 during the sale next week. Take an extra $5 off your order (no minimum) with the coupon code you have earned.
Shipping is $3.99 plus $0.75 per book. The coupon will not apply towards shipping costs.
(Expiry: Unknown)