Adult Colouring Book Bundle For $23 @ BookOutlet.ca!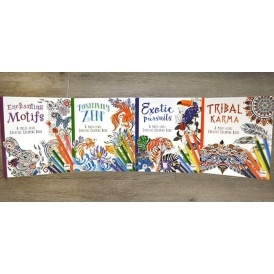 Adult colouring books seem to be a craze right now. I know I find myself indulging in a good colouring session with a glass of wine here and there. The books can be quite pricey though, which is why I am glad to have found this Creative Colouring 4 Pack of Adult Colouring Books on sale at Book Outlet for $22.99 plus shipping. Shipping is just $4.94.
I actually own two of the included books here. I have Exotic Pursuits and Tribal Karma. I am an animal lover, so I was glad to see such a variety of animals and exotic floral designs. In my books I have everything from wolves to roses and I couldn't be happier. I paid almost $12 for each of my books so with this bundle price you are essentially saving half of what they would normally cost you.
Each book has 88 pages, and colouring pencils are not included. With this price, you are paying about $0.07 per page. I find each page takes me an hour or more to colour and they definitely help me relieve stress. I suggest finding some PrismaColor Pencil Crayons when they do go on sale—or check back here and we'll try to find them for you! They make every image pop. I don't think I will ever be able to switch back to simpler pencil crayons. Now I get in on the fun when my kiddo colours—and when he goes to bed.
Shipping on this bundle from BookOutlet.ca is going to be $4.94 but you won't even notice that with the discounts you will get.
(Expiry: Unknown)