50% Off Classic Pac-Man Connect & Play Just $15 @ Chapters Canada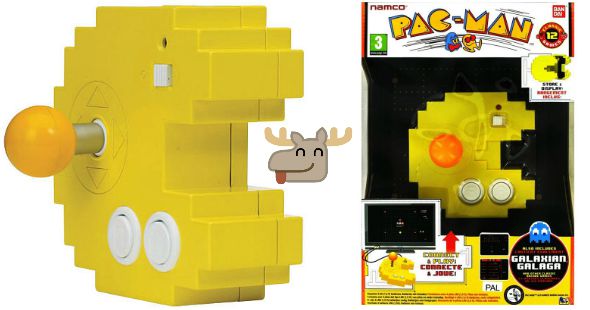 Are you ready to play some Classic Pac-Man and other classic games like Dig Dug and more? Right now Chapters Canada has the Classic Pac-Man Connect And Play Game on sale for 50% off the regular price, which means you are left paying just $15 for virtually endless hours of fun. Tonight Chapters Canada still has free shipping with no minimum purchase, but tomorrow you will have to spend $25 to get free shipping like normal.
The Namco Pac Man Connect and Play is great for anyone who enjoys classic arcade games. You can be nostalgic and play this famous and ever so popular 80's arcade video game right in the comfort of your very own home for just $15. This game boasts a collectible Pac Man shaped joystick that has 12 classic games as well as the exclusive level 256 game which is where the original Pac Man game ended, so essentially you can continue longer than you ever could before. This is also definitely the lowest price around.
Here is a look at what this Namco Pac-Man Connect and Play will cost at other Canadian retailers:
$26.99 USD @ ToysRUs.com
$48.88 @ Amazon.ca
So you're going to take your Pac Man joystick and connect it directly to the TV, but you will need 4 AA batteries to get started. I suggest you place the controller on a flat surface for optimal enjoyment. I like how the joystick is designed like the original games. When the game is not in use, you can store the cord within the controller and just display Pac Man on your shelf or TV stand as a decoration.
I love Pac Man. I love going around eating the little dots and then chasing the ghosts. This classic game even includes 12 games in total like Dig Dug, Rally X, Galaga and more. I can't picture ever getting bored of this awesome little video game set.
Right now Chapters Canada is offering free shipping on all orders big or small when you shop online at Chapters.Indigo.ca. That offer unfortunately ends tomorrow, and then you will need to spend $25 to get free shipping. If you rather shop in stores than pay shipping fees, then that is an option as well. This discount on the Pac Man game is available in Chapters Indigo Canada stores as well.
(Expiry: Unknown)