$5 Mugs (Save $7) @ Chapters Indigo Canada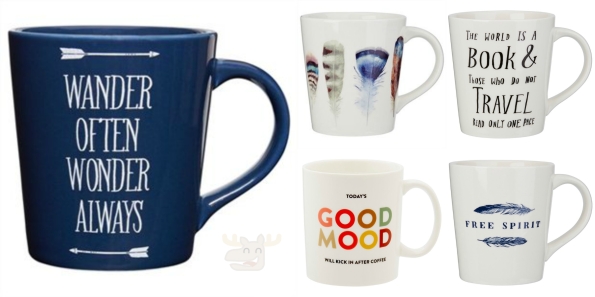 Chapters Canada has a selection of really pretty mugs on sale from $12 down to just $5 each. These mugs make nice gifts for the person who has everything. Receive free shipping on $25 or more at Chapters Indigo.
These mugs can also be used as part of a gift basket or another gift set. I like the idea of shoving a plush inside the cup and wrapping the entire thing in cellophane with a bow. There are six different mug designs to choose from:
All these mugs are pretty cool and would suit different personalities. If you have a real bookworm in the family, then purchase "The World Is a Book" mug for them. For the real patriot in your family, try the "Canada Fall" mug. Personally, I really like the "Free Spirit" and the "Wonder Often" mug as they speak to my own personal world view. I also rather like mugs like this: I have a Pink Floyd mug that is currently my special mug.
Five is like some magical number for me: it marks the difference between an inexpensive trinket I can buy on an impulse and a higher priced item that takes more thought. I wouldn't hesitate to pick up a new mug or two as gifts for friends and relatives. However, I would certainly stuff things inside the mug. Personally, I would like to receive the  "Wonder Often" mug stuffed full of candy. For an artistic friend, I would load hers full of art supplies.
I also wanted to mention a few travel mugs that I found as well. While not as steeply discounted, the Owl Travel Mug, Moose Travel Mug, and Canadian Fall Travel Mug are fantastic buys. Originally $15, they are now only $7 each. These are beautiful porcelain travel mugs with a slip-on silicone lid. I actually own plenty of mugs right now but I do not own a travel mug. That owl mug might be on my 'to buy' list.
(Expiry: Unknown)