Amazon Daily Deal: Buffy The Vampire Slayer Collector's Set DVD Only $69.99US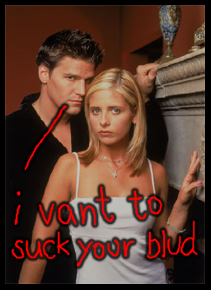 Amazon.com do a daily deal and sometimes it's a stonking hot offer. This is one of their "gold box deals" today. They're offering the complete set of Buffy DVDs for only $69.99US, which is a 65% discount.
If any of you are concerned about customs and fees – don't be. Amazon.com ship Canadian orders from their warehouse in Canada, so that's not a problem. You will only have to pay the shipping charge, which depends on where you live. Shipping to Ontario showed as $7.98, which is pretty decent!! So overall, with shipping, and the exchange rate, this works out at aboot CA$100.
When I went through checkout to test this order, I saw a popup which offered to give me a $30 discount on my order – if I took out an Amazon.com Visa card. I don't know if this applies to us canucks, but worth it if you want to try for the extra discount.
If you're a Buffy fan, but don't yet own these, now would be a great time to buy. The deal may not last for long though, so snap it up while there is stock left. I already have all the Buffy The Vampire Slayer episodes on DVD. I'm quite a fan of the show. A few episodes were excellent – the one that stand out the most was the singing one, "Once More, With Feeling." Although it didn't make the cut for the top 5 episodes by Andy the Saint, over on the Zip.ca blogs. "Hush" made number 2… it was a really scarey episode. I have very vivid memories of it!
I've not seen all of Angel though – I hope to buy it next.