Sweet Dorm Room Must-Haves From $12 And Up @ Bed Bath & Beyond Canada
25 July 2016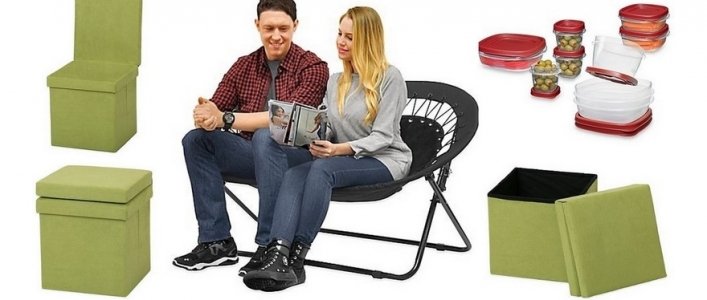 I remember my humble beginnings in my first apartment. To 'buy' a couch, I swapped my Nintendo video game system for it with a friend. (After I had mastered the Super Mario game, of course.)
As soon as I saw this double bungee cord style chair available at Bed Bath & Beyond, it made me think how great it would be for those starting out at College or University, especially when living in a smaller living space.
This Idea Nova Double Saucer Folding Chair in black is the ultimate dorm room chair. Big enough for one or two. (It holds up to 400 lbs!) This chair is $60, down from $110.
I like the idea that it folds so that when students need more space (for studying of course, not for parties) they can fold it up. It's lightweight and flat when folded, so will pack up well in the vehicle for the trip, too.
Another furniture 'must-have' will be this FHE Folding Ottoman Chair. It can function 3 ways - storage unit, ottoman, or chair! A warm, muted lime green is the only colour left but it looks fantastic! It's only $30, down from $46.
One more thing I noticed will be great for students who have moved out of the home for the first time, are these Rubbermaid Easy Find Lids 18-Piece Storage set. This set is clearing out at $12 and it is the only food storage set they will need. There are bigger ones available for around $20 or $25 but it will just be too much 'stuff' to pack.
The mantra for this trip to a new home should be 'pack light.'
Tip: Make them some home made chicken noodle soup and store it in their freezer for the first time they are sick with a 'bad cold', (are there ever any other kinds??) in one of those Rubbermaid containers. It will mean the world to them.
Shipping is free on orders over $99, or you can select to pick your order up in-store for free. Otherwise, shipping will start at only $7.99.
(Deal expiry: Unknown)
More Back to school