Staples Canada: Quartet Magnetic Dry Erase Board Was $40 | Now $12 (EXPIRED)
11 August 2015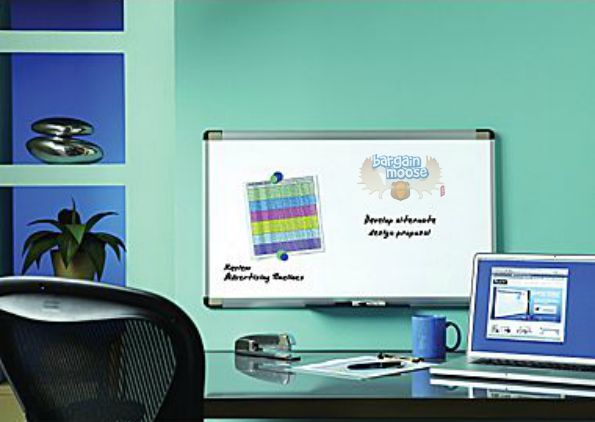 While everyone is so into fanciful chalk boards these days, those make me cringe. Touching chalk is such a horrible experience for me! I much prefer a white board for keeping all my notes in one spot, seeing reminders and basically just keeping organized. Staples has a hot deal on today, which is great for back to school, on this 18" x 30" Quartet magnetic dry erase board with an aluminum frame, regularly $39.99, now only $12. I love that the board is also magnetic!
The best part about it, that it is magnetic, means that I will never forget to give the kids paperwork again! I can draw a huge arrow pointing to the paper saying "take this!!!". I would put this board right near my front door, and make a sort of command centre where everything is organized for my home. Anything that I need organized will be in this command centre, including a calendar, file folders for paperwork, keys, chargers and this white board. If you need some advice on how to do this, this Real Simple article is very helpful. You won't be that disorganized mom this year!
Also included with this white board are a marker tray, a low-odour marker and two magnets. You might want to deck out your command centre even more and also get your cart up to the $45 minimum for free shipping, so I found a few other items that would gladly be a part of your purchase.
These Quartet animal print magnetic locker lists are great for the kids lockers, or can be a part of your command centre. Every person could have one as their own personal to-do list. Regularly $6.48, they are on sale for $0.99 for a two-pack.
Of course, you'll also need dry erase markers and this Expo low odour dry erase markers in a 12 pack are a great deal. Regularly $19.96, they are now $14.58. I also find that teachers require kids to bring their own dry erase markers to school these days, so share a few with the kids.
Looking around the web at other stores, this is a fantastic price for this size of magnetic white board.
If you plan on spending $70 or more, you might want to use one of the links on the Staples coupon page to checkout with Visa Checkout or get a unique coupon code and save even more money.
(Expiry: 17th August 2015)