Staples Canada: Mead Shape It Up Casemade Binder Was $7 | Now $1.74
18 August 2015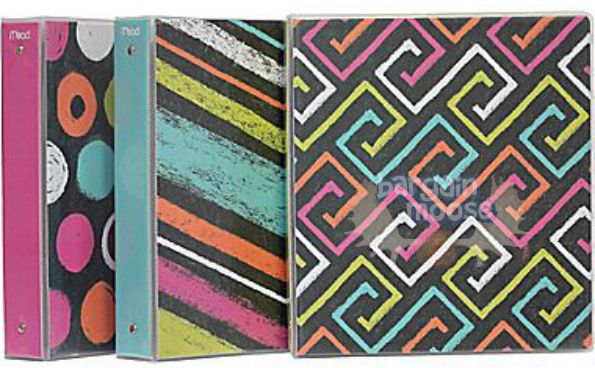 Its easy to forget the little things when shopping for back to school. I mean, I have the shoes, the winter gear, the backpacks and the lunch packs, but what about binders, pencils, pens, erasers and more? Staples has a hot deal going on this morning on Mead Shape It Up Casemade binders (1.5") in assorted designs. Regularly $6.99, they are $1.74 each.
There are three different designs for these binders, all pretty much tailored to the teenage girl. There isn't too much to say about binders that you can't already see for yourself. Of course, I price compared binder prices elsewhere and found that the $7 price is about right. Check out this pick of binders at Staples, where most are around the $7 mark for the 1.5" size. Walmart has a large number of binders on rollback, with the 1.5" size being $3 for plain binders with no fun designs.
Staples offers free shipping on $45, otherwise you'll pay $15. With that high of a shipping fee, I'd definitely get my cart up to avoid that fee. You'll probably want to buy more than one binder, so get as many of those as you are going to, but you could also check out the Deals Centre for more deals.
You could take advantage of the mannequin deals, but maybe you need something a little more practical. You might need something to keep all of your data on, traveling from library computer to home. The Kingston DataTraveler 101 G2 8GB USB flash drive is a great deal, regularly $12.92, on sale for $5.92. Pricing around, these sell from $8-$16 depending on brand.
If you are already getting your total up to $45, you should check out the links available on the Staples coupon page, which will take you to a spot where you can get individual coupons for amounts off your purchase or use Visa Checkout to get $20 off $70. That's a lot of free binders!
(Expiry: 21st August 2015)