Updated: Sep 21, 2016
NewEgg Canada: Compact Refrigerator Only $70 (Expired)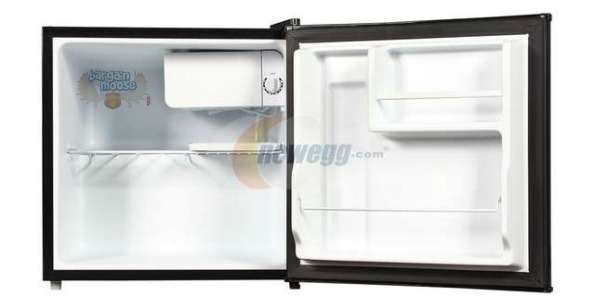 If you're looking for a convenient way to keep your food and drinks chilled, this compact refrigerator can certainly help accommodate your needs! Now that we're still enjoying the summer season, this 1.7 cu. ft. compact fridge can be especially handy during some of these humid days. Today's deal from Newegg.ca allows you to save $80 off of the regular price of this Midea MRS180B 1.7 cu ft. Compact Refrigerator, and today you can get it for only $69.99- a 53% savings!
The Midea compact refrigerator is black, sleek, and  small enough to fit in many areas (its dimensions are 19.4h x 18.6w x 17.7 d.) At Newegg.ca, you can get it shipped to you for only $9.99!
If you're looking for an efficient fridge that can easily fit on your desktop, in your garage, in your office, or even in your basement, then this is the perfect solution for you!
Better yet, just imagine this scenario: You suddenly wake up at 3 A.M., and you're incredibly hot and thirsty. After convincing yourself that you'll get back to sleep after having some water, you unfortunately realize that you just don't have the energy to go down the stairs and into the kitchen to pour yourself a glass of H20. If you had this Midea compact refrigerator conveniently placed in your room, this scenario wouldn't even be an issue for you- after all, you'd be able to simply take a few steps in your room to enjoy a nice, chilled drink in the middle of the night.
Personally, I know I love having a fridge in my bedroom, and I know you all would, too- especially since it's so compact. The Midea compact refrigerator hums along nice and quietly, since it's energy-efficient. It can also be a great addition to any college dorm!
At only $70, this is especially a great deal when comparing the price to other sources like Amazon.com, with the price range for this model fluctuating from $113.84 (plus $47.29 shipping) to $145.95 (with free shipping). I couldn't find this exact model at many places in Canada, but the price for a 1.7L refrigerator is usually at least around $100 (and goes up from there).
Here's what some Newegg.ca customers are saying about this compact fridge:
Pros: Small, quiet, energy efficient
Cons: Small. Really, really tiny. Not much space for much.
Pros: Great compact fridge. Fairly quiet. Stays cold very well (goes for many hours without having to turn on to maintain temperature, unless you're opening it frequently of course). Has a tray under the freezer-portion. Rack is removable.
Cons: Makes a ping sound when the compressor turns on and off (not a lot of noise-dampening to reduce the sound, unlike with full-size fridge/freezers). Not a big deal, just an FYI. Wish it had a soda can track in the door.
Other Thoughts: EnergyGuide yellow card that came with estimates $26 annual electrical bill from use (10.65cents/kWh, total 247kWh).
Take advantage of this great deal before it disappears- with 53% off of the regular price of $149.99, it's easy to see why you should act fast and nab this conveniently compact refrigerator before it's too late! Check out this great deal from Newegg.ca, and remember that there's a limit of 5 units per customer.
(expiry: unknown)
More Back to school