Apple MacBook Air 13.3" i5, 8 GB RAM, 128 GB SSD $1000 (reg. $1200) @ Best Buy
5 September 2016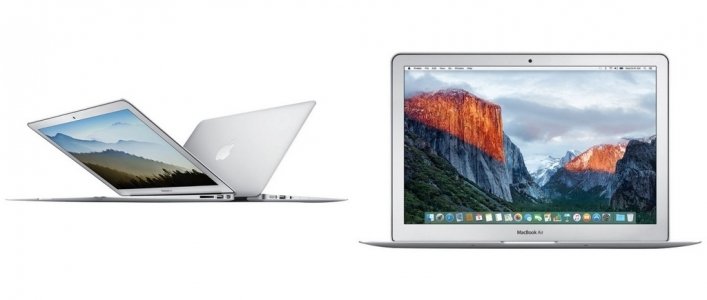 If you've been on the fence about buying an Apple MacBook Air, Best Buy is offering a huge discount of $200 right now on the Apple MacBook Air 13.3" Dual-Core Intel Core i5 1.6GHz 128GB SSD Laptop. Even though this sale runs until Sept. 8th I have a feeling it will sell out much sooner than that.
The regular price is $1200 and it's now marked down to $1000. That's almost a 17% savings. Why have they knocked the price down by that much? (If you've been looking around, you know these rarely go on sale.) Probably because the new models will be making the rounds, with better specs, etc. New models will cost more though, than the $1200 original price of this one, that's for sure!
For a truly portable, long lasting MacBook that's powerful enough to take with you through the next several years, this is an excellent price. It's ideal for a student but really, anyone will enjoy using this. (Me, me! Honey, are you reading this??)
I've been looking this up, and everything seems great with this model, with one small are of discontent for some. Some people find the screen display to be a bit lacklustre. The resolution is 1440 x 900 on a 13.3" LED-backlit screen which actually isn't that bad on a screen that's only 13.3". It's good to know though, that those who do find it to be less than ideal for a display have an understanding that they feel that way because they are used to using very high resolution monitors. (As in, the 4K variety.) No wonder!
The Apple Store Canada is selling refurbished models of this Mac for a higher price. They still include a 1 year warranty. Obviously to pay a slightly lower price and to have a brand new one from Best Buy is well worth it. Shipping will be free, but you can also check your local store for availability if you just can't wait.
One of the best features of this Mac is how light and thin it is, yet it still a high performance unit due to the Intel Core i5 Processor and 8 GB of RAM. The SSD (hard drive) is 128 GB, which is certainly not huge but as long as you're not storing a lot of photos on there, you should be good. Especially with cloud storage and portable drives entering into play, you shouldn't find the limited space to be an issue. You'll find start-up times to be very fast due to the ability of the SSD (which is a hard drive without moving parts like a traditional hard drive has. Because it doesn't have to 'seek' to find the info. that's what makes it so speedy.)
The HD Graphics 6000 will even allow some games and other intensive tasks. Multi-tasking and having multiple windows comes to my mind for something I would be using this for.
The Wifi boasts an 802.11ac capability which is very fast, if you have a router that will support it. It's backwards compatible with other routers though and supports 802.11 b/g/n/ac. The Bluetooth 4.0 provides compatibility with the newest Bluetooth devices.
You can easily work in a low-light room because it has a back-lit keyboard. With up to twelve hours of battery life can get you through a full day's work without needing to charge it up again. Amazing!
Shipping is free or you can check online for in-store pick-up availability.