20 Scholastic Back To School Tales On DVD For $4.99 @ Amazon.ca
20 July 2016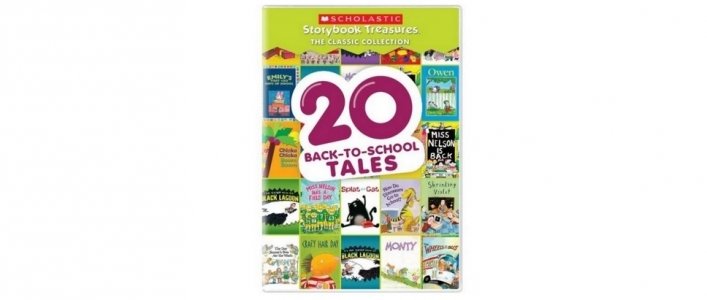 My friend's son is starting kindergarten in the fall and he doesn't have an older sibling to fill him in on what happens in a school setting. This means he has come up with different scenarios in his mind of what school is like. I think this would be a helpful DVD for him to put some of his concerns to rest.
Scholastic has put together on one DVD a collection of 20 favourite school based stories for little ones preparing for the big day. You'll find classic teaching stories, funny stories (How Do Dinosaurs Go to School?), and of course stories about Miss Nelson.
Here from the Amazon description are the stories that are included on this DVD:

Includes: How Do Dinosaurs Go to School?, Splat the Cat, Wheels on the Bus, Chicka Chicka Boom Boom, Sky Color, Crazy Hair Day, The Day Jimmy's Boa Ate the Wash, Monty, Emily's First 100 Days of School, The Gym Teacher From the Black Lagoon, The Librarian From the Black Lagoon, Miss Nelson Has a Field Day, Miss Nelson is Back, Will I Have a Friend, Open Wide, Tooth School Inside, Otto Runs for President, Owen, The Scrambled States of America Talent Show, Shrinking Violet, The Teacher From the Black Lagoon
This would be a great DVD to sit and watch a few stories at a time with your pre-schooler who is getting ready for the big day. I'm going to buy it for my friend's son, it's only $4.99 at Amazon.ca.

If you're an Amazon Prime member, shipping is free on this DVD and if not, you could sign up for a free 3o day trial or top up your order to over $25 to receive free shipping. Otherwise, the shipping will cost around $4.98.
(Deal expiry: unknown)