WubbaNub Pacifiers from $17.49 @Well.ca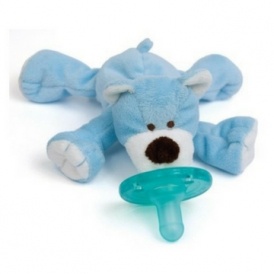 These pacifiers get great reviews, so if you haven't tried one yet, now's your chance! WubbaNub Pacifiers are on sale at Well.ca, and you can get them for $17.49 each, down from $21.99!
They're intended for kiddos aged 0-6 months and are just the right size and shape for little hands to grasp and keep close.

WubbaNubs are BPA-free, PVC-free and phthalate-free, and they're even easy to clean! The one-piece, medical-grade silicone pacifier doesn't have gaps or seams, which means you won't get germs hiding in the cracks.
Plus, the cute and cuddly animal is specially weighted to keep the pacifier in place and looking extra adorable! There's even a Red Dog one that looks like Clifford!
These ones are too cute to miss:
WubbaNub Pacifiers are awesome additions to baby shower gift baskets. If you know someone expecting a little one around Christmas, there will even be a Reindeer one available soon!
Orders over $35 ship free.