Baby On The Go Gear @ Snuggle Bugz!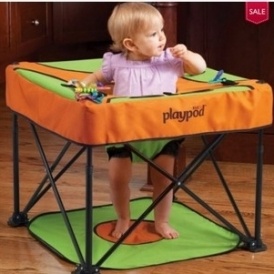 Creating portable options to have at-home comforts is a breeze with these products sold at Snuggle Bugz. Now when you travel to see friends and family in their homes or meet at outdoor venues (such as parks or campgrounds), you'll be set with this wide selection of baby goodies!

The Pop N Sit Portable Booster is now on sale at Snuggle Bugz for $39.99, down from $49.99. This features ultimate portability and is perfect to take with you on your next camping trip.
A taller suggestion is this Pop N Sit Portable Highchair that's on sale for $63.99, from $79.99. I love this one because I can see how you can just pull up a chair and sit next to your baby. The face to face contact is excellent with this high chair, especially for the times when you take this with you to visit family or friends for dinner!
I also like the style of this Dine Pod- Midnight for $59.99, down from $74.99. You can easily pull the dine-pod right up to the table. It weighs just a bit more than 5 lbs and has an instant set-up feature. The storage case is included with this.
Here's a alternative to bulky stationary activity centers for babies - this Kidco Go-Pod is priced at $59.99, down from $74.99. This one also includes a convenient carry bag. I like how roomy it is so toys can be placed on it and played with. I noted a few different colour options online with this one.
There are a lot of Moms out there who swear by the Bumbo Seat, which is on sale for $48.99 down from $69.99. It provides so much support for little ones and creates an easier space to allow baby to sit upright. If I bought the Bumbo Seat, I'm positive I would buy the handy Bumbo Tray, for an additional $19.99.
While you're at it, you will enjoy checking out the awesome clearance section that they have. I could browse through the Snuggle Bugz website all day - it's very nicely laid out, prices are clearly marked and they have fabulous, innovative baby products. Count me in as being super impressed!
Shipping is free on all orders over $49 however, the free shipping option has some exclusions for remote areas. You can check out this page here to see exclusions. Even if you are excluded from the free shipping, they will provide competitive shipping rates for you.
(Deal expiry: Unknown)