Strollers From $28 Today @ Toys R Us Canada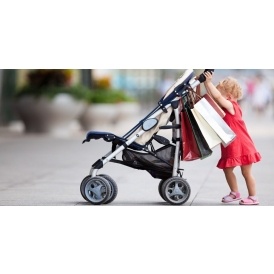 Earlier today I mentioned the Cosco Umbrella Stroller being on sale at Walmart.ca for just $10, but if you are looking for a more practical stroller for everyday use then now is the time to shop at Toys R Us Canada. Today only, all of the strollers at ToysRUs.ca are on sale and prices start as low as $27.97.
There are over 18 pages of strollers on sale at Toys R Us Canada. You will find everything from umbrella strollers to intense all-terrain strollers on sale. So whether you need a spare or a main stroller, now is the time to shop.
While prices do start at under $28 for the umbrella strollers, I am going to point out a few of the higher quality options since we talked about the $10 Cosco stroller in my Walmart post from earlier today. The Chicco Liteway Stroller is a great option if you are looking for a combination or portability and quality. It is on sale from $199.99 down to $159.97 and you will be pleasantly surprised with how small this stroller will fold, as well as the handling. I had one for my son and I think we used it more than our larger Graco stroller.
You can even get entire travel systems on sale! A decent one for a good price is the EvenFlo FlexliteTravel System which is on for $255.97 reduced from $319.99. I mean, where else can you get a car seat and a stroller for a reasonable price like that?
For shipping, you have a few options. Some strollers qualify for a $10 discount on shipping, but some also qualify for free in-store pickup which may be the better option if you have a Toys R Us store nearby.
(Expiry: 28th April 2016)