Oster Baby Nutrition Centre $80 & Free Shipping @ Costco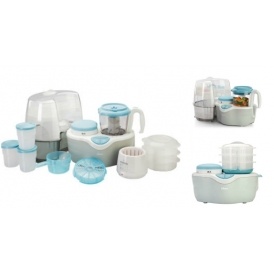 One of Costco's Hot Buys is the Oster Baby Nutrition Centre and, compared to $110-$130 at other retailers, $79.99 is a hot buy! (Amazon has it for the same low price if you have a preference.) And shipping is included.
The nutrition centre is a 4-in-1 time saver. It allows you to sterilize bottles and pacifiers, warm bottles and baby food, steam food with the 3-level streamer and blend your own baby food.
This nifty little set includes:
bottle and accessories sterilizer with bottle tray
steam container/food processor
bottle and food warmer
3 x storage containers
3 x steam trays
nutrient collector/measuring cup
There are mostly positive reviews with a few complaints but the majority say it makes life so much easier and, when you have a baby, you need all the help you can get. One comment notes that, when there was an issue, Costco took the product right back so you can have some peace of mind that you won't get stuck with a lemon. Costco has great customer service!
Shipping and handling is included in this great $79.99 price tag so no extra charges will surprise you. We love that.
Have you ever used such a gadget for your little ones? Did it make life easier?
(Expires: Unknown)