Half-Price Safety 1st Prelude Play Yard $100 Shipped @ Best Buy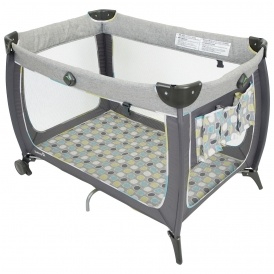 What a steal this Safety 1st Prelude Play Yard is at Best Buy! If you're expecting you'll want to check this out, or if you know someone who is, be sure to pass this deal along. Regularly $199.99, the play yard is on sale today only for just $99.99.
Available in a fairly neutral print, the Safety 1st Prelude Play Yard has everything you could possibly need (except some helping hands!) for a new baby.
It has a full size bassinet with breathable mesh sides to keep baby safe and comfortable during naps as well as a elevated change table. The change table can be quickly removed and wiped down easily. Both of these features can be used until the baby is 15 lbs. There are even storage pockets for extra diapers, wipes and other necessities.
Once the kiddo is old enough, just remove the bassinet and you've got a spacious play yard with plenty of room for playtime.
The yard includes wheels for easy mobility, a toy bar with 3 stimulating sensory toys and a travel bag for easy transport. They promise it assembles easily and sets up quickly by simply clicking the side rails and pushing the center lock. The play yard itself can be used until the child is 35 inches tall, or until, of course, they start to climb out!
We had a play yard like this in our living room for my son's first year and don't think we could have lived without it. The changer and bassinet features are incredibly handy. But, let me tell you, we paid MUCH more than $100!
As a bonus, Best Buy will ship the Safety 1st Prelude Play Yard to you free of charge!